Örebro researchers develop robotics in cooperation with regional companies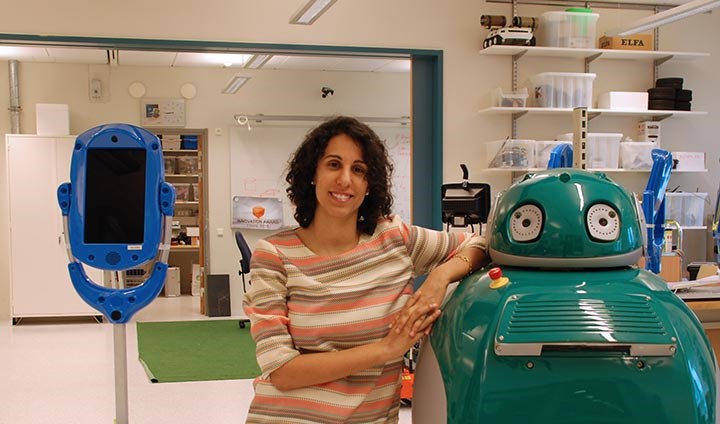 Together with Alfred Nobel Science Park and companies in the region, researchers at Örebro University are developing a platform to provide the ability to test new methods of using artificial intelligence and robots in industry.
"Today, our region has all the right prerequisites to introduce new technological solutions; we have a smart specialisation in autonomous systems and not in the least, strong research at Örebro University. Now we will utilise this research in collaboration with companies," says Amy Loutfi, Professor and project coordinator.
In collaboration with companies in the region, Örebro researchers will explore the development potential within artificial intelligence, AI, and autonomous systems for a variety of industrial applications, to provide companies the possibility to test their prototypes. The project, Autonomous Intelligent Systems for Enterprise and Exploration, or AIMEE, is for three years and has received funding of SEK 13 million, half of which comes from the European Regional Development Fund.
The project involves large-scale tests of robotics and AI solutions in real-world environments, but will also contribute to the dissemination of knowledge throughout the region. All this takes place with the onset of Sweden's new industrialisation era, "Industry 4.0", serving as the backdrop.
"A new generation of technologies, such as artificial intelligence, robotics, virtual reality and simulation, will be applied in areas such as manufacturing and mining, and transform them to being more competitive and contribute to a sustainable development," says Amy Loutfi.
In the Örebro region, the project will be building a number of so-called demonstrators, physical platforms equipped with both the hardware and software needed to test new solutions in robotics, artificial intelligence and automation.
"This cooperation project between Örebro University, Alfred Nobel Science Park and the region will eventually lead to a structural change and strengthen the region's position within AI and autonomous systems," says Kjell Fagerström, Managing Director, Alfred Nobel Science Park.
The project is funded to fifty per cent by the European Regional Development Fund, and to fifty per cent by among others Region Örebro County, the Swedish Agency for Economic and Regional Growth and Karlskoga Municipality.
Translation: Jerry Gray