This page in Swedish
Örebro students built a robot bartender – mixes up to 500 different drinks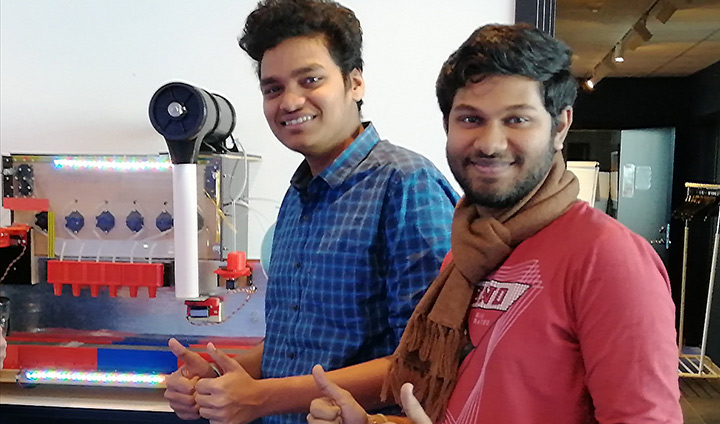 Students Yogesh Kumar Jagadeesan och Balu Prashanth Ravichandran with the "barbot" that is located at myOffice. Photo: Private
Exchange students from India came to Örebro to complete their degree project in computer science. After arriving, they were presented an unusual assignment: to build a robot that can mix and serve drinks.
It was myOffice, a local business service centre, who proposed the student assignment: to design a robot that can serve drinks. The result was a fully automated robot bartender that can mix up to 500 different drinks. The "barbot" is now located in the relax room at myOffice.
"myOffice gave us a very challenging project to design the robot that serves drinks, which is great," says Balu Prashanth Ravichandran from SASTRA Deemed University, who completed his degree project, together with a fellow student, Yogesh Kumar Jagadeesan.
The whole process, from the robot picking up a glass, to mixing a drink and putting a straw in it, is completely automated. Using an app, a drink order may be placed in advance, for example, while taking the lift to the relax room.
"We started by mapping out a bartender's work, and we wanted to eliminate the waiting time. Our idea is that your drink will be ready upon your arrival and the robot can also be monitored using a camera," says Balu Prashanth Ravichandran.
Cost? SEK 8,000
The students received a budget of SEK 10,000 for their degree project. The robot ended up costing only SEK 8,000.
"What I'm most pleased with is how we solved the problem with ice cubes. Drinks are served with chilling stones which keep the drink cold without diluting it. myOffice was also delighted by this feature," explains Balu Prashanth Ravichandran.
Another technical solution that the students are satisfied with is that the app is protected in such a way that the data required for processing by the robot is not stored anywhere, not even in the cloud. This eliminates unauthorised usage of the robot.
"As soon as an order is prepared, all data about it is flushed," according to Balu Prashanth Ravichandran.
Are the things that can be developed further?
"Sure, right now, it takes about 8 minutes for the robot to mix a drink. The time can be reduced further."
Received the highest grade
The exchange students received the highest grade for their degree project. And they have learnt a great deal during their study time at Örebro University.
"We liked Örebro a lot, and our supervisor supported us throughout the entire project. We are thankful for the opportunities and the help we received," says Balu Prashanth Ravichandran. Today, he is graduate engineering trainee at Ashok Leyland, which is one of the India's largest commercial vehicle manufacturers.
Tony Oscarsson, MD and founder of myOffice, is also satisfied with the results of the project.
"It was a terrific idea since we have a bar in our relax room, we thought that a robot bartender would fit in well there."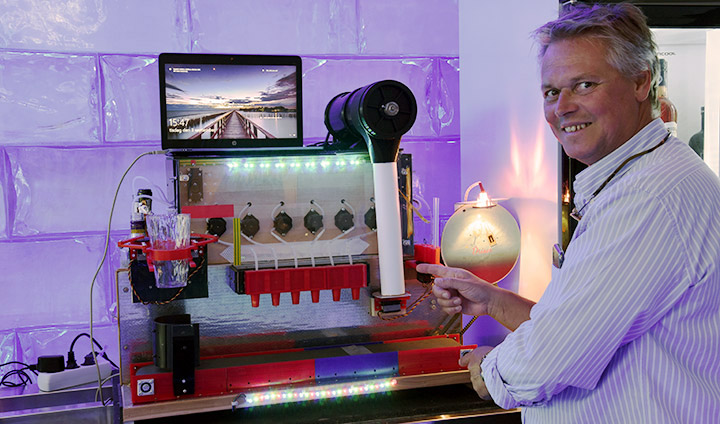 How often is the robot bartender used?
"It has been used on several occasions already," says Tony Oscarsson, and continues:
"We wanted to give the researchers in AI and robotics at Örebro University an opportunity to use myOffice as a test platform for various projects and this degree project is an example of that."
Text: Jasenka Dobric
Translation: Jerry Gray