Örebro University coordinating major EU project in robotics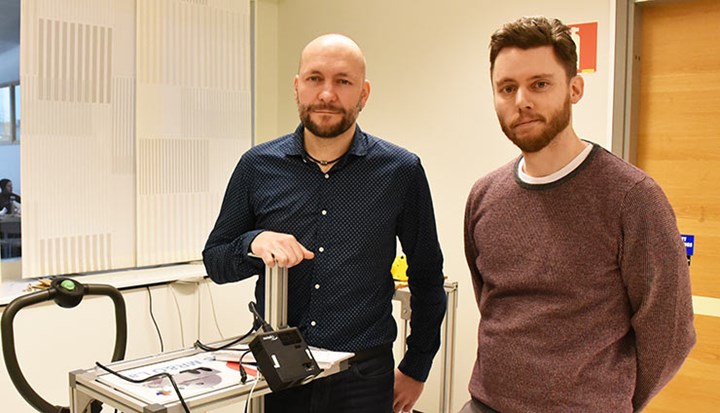 Achim Lilienthal and Martin Magnusson have received 7 million euro for an international research project on autonomous robots.
Robotics research at Örebro University has been awarded a strategically important research grant by the European Commission. In total, 7 million euro have been awarded the project partners to enable development of technology for autonomous robots in warehouses. The project includes a number of European universities and businesses, with Örebro University as coordinator.
"The project builds on the research we have conducted for a long time here at Örebro," says Achim Lilienthal, Professor of Computer Science and linked to the Centre for Applied Autonomous Sensor Systems, AASS, at Örebro University.
His colleague, Senior Lecturer Martin Magnusson, is Scientific Manager of the project which has been granted funding from "Horizon 2020" , the European Commission's framework programme for research and innovation. One of the key objectives of the Horizon 2020 programme is to support the conversion of research into products and services that may lead to new business and job opportunities, and improve people's lives.
The project, which has been named Iliad, will see researchers from four universities developing, in collaboration with business partners, technology and safety in warehouse facilities.
"There are warehouses that are entirely automated. Some are currently being built here in Örebro, for instance. But not all companies can or want to go down that road. Our goal is to develop technology that can easily be integrated in already existing warehouse facilities," says Martin Magnusson.
Self-learning
Another objective of the research project is for the technology to be self-optimising and upgrade itself as it learns from its operations.
"There is no such technology today, and it would allow companies to save both time and money," says Martin Magnusson.
In a warehouse, much revolves around the forklift truck and its operation – it should be energy-efficient and automatic, in a way that is safe for people in its vicinity. In addition, there is less wear on automated forklifts compared to manually operated ones, reducing costs for companies.
The technology involved is universal, but the Iliad project is geared towards the food distribution sector, an industry where lead times are short and flexibility is key.
Half of all EU funding
This project grant means that the robotics field is now the main recipient of EU research funding at Örebro University. Together with the grant already awarded the Smokebot project, the University's share of the Iliad project, amounting to 1.6 million euro, makes up over half of the University's total EU funding.
Over a period of four years, four doctoral students will be working on the project under the supervision of, among others, Martin Magnusson and Achim Lilienthal, who will also be coordinating the research with universities in Lincoln, Pisa, and Hannover, as well as with the industrial partners Bosch, Kollmorgen Automation, ACT Operations Research, Logistic Engineering Services and Orkla Foods.
"The result will not be a finished product, but rather a prototype. But the technology developed will be useful, maybe even in ways we cannot predict today," says Achim Lilienthal.
Text and photo: Maria Elisson
Translation: Charlotta Hambre-Knight