Robotics researchers from all over the world visiting Örebro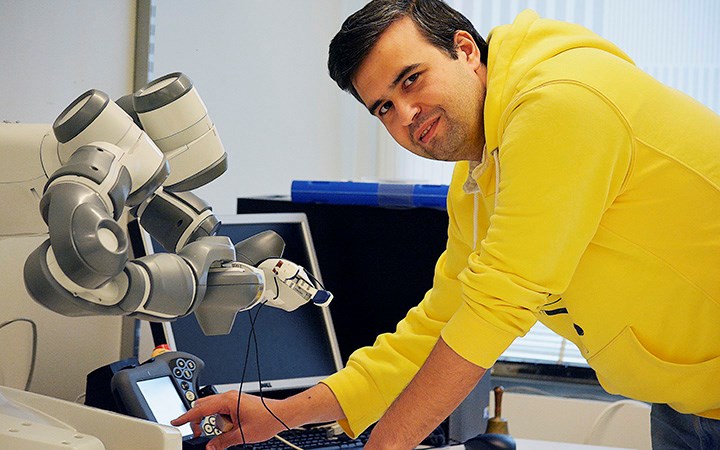 Todor Stoyanov starting up a robot designed to grip various objects.
On Saturday, scientists and business representatives from all over the world visited Örebro University. It was the final day of the international conference ICRA in Stockholm, and the tour showcased cutting-edge technology developed for industry purposes as well as for our homes.
"It is important that we put ourselves out there; that other researchers from around the world notice us," says Todor Stoyanov, who coordinated the visit to the robotics lab at the University.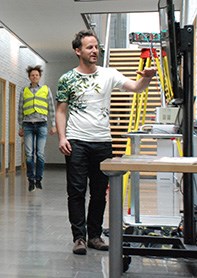 At four different stations, the Örebro researchers told the visitors how robots are able to detect a gas leak and draw a map of the gas distribution. They showed how robots can be used to make building sites safer and how they can be deployed in a warehouse – transporting goods and cooperating with other robots and humans.
Testbed apartment
The visitors were divided into two groups and while one was in the robotics lab, the other visited Ängen – a research and innovation testbed apartment. The apartment has been equipped with sensors and robots, which for example are able to fetch medicine, make phone calls, order food, as well as drop off and pick up laundry in the communal laundry room.
"With the ICRA conference being held in Stockholm, we had the opportunity to invite participants to our lab. Otherwise, it would have been near impossible to bring so many researchers from around the globe to Örebro," says Professor Achim Lilienthal.
Will remember Örebro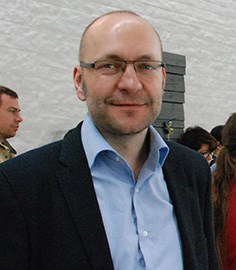 "We want to show what we can do here. The researchers who visited us today were impressed and they will remember Örebro. And a visit has a greater impact than if they would read about our research in scientific articles," he continues.
The ICRA conference alternates its venue between USA, Europe and Asia and it may be many years before Sweden is hosting it again.
Text: Linda Harradine
Translation: Charlotta Hambre-Knight
Photo: Sakher Alattar, Linda Harradine