Seniors positive to robotic helpers at home
Researchers from Örebro University have looked into how robots can make it easier for elderly people to live independently. During an open house at Ängen, a research and innovation testbed apartment in Örebro, Sweden, senior citizens who had tried out the technology shared their stories about interacting with the intelligent robots. They were positive and would definitely like to have robots at home in the future.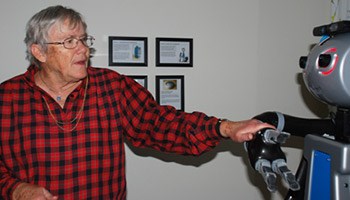 The goal of the project Robot-Era is to create a broad system of services which in different ways can help elderly people. To find out how people feel about living with robots, 20 senior citizens were given the opportunity to test the technology.
The Ängen testbed apartment has been equipped with robots and sensors, and the robots have helped with getting medicines, calling friends, ordering food, and leaving and fetching laundry in the laundry room.
On the market within ten years
"Dora has fetched medicines for me and called one of my friends. It can be a help for people who otherwise would have to wait for the home-help service to get their medicines or a cup of coffee or who have difficulties finding their way if they have to get up at night," says Inge-Gerd Lindsten, one of the seniors who have participated in the test.
She had been given the opportunity to make suggestions – if the robot was too slow or should have another voice for example. Inge-Gerd Lindsten feels comfortable with Dora and even says goodbye to the robot before she leaves the apartment.
The next step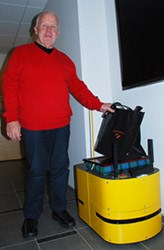 The next step will be to give people living in the building the opportunity to get more use out of the robot, for example to have it go between different apartments to fetch and leave mail. The researchers believe that products which have been developed as part of this project will be on the market within ten years.
"It is the practical solutions that I like, when I for example am not able to carry things any more, but when it comes to the social aspects, that's when we need real humans," says Tommy Hellberg.
Robot-Era is an international co-operation project with twelve partners in Sweden, Italy, Germany and Great Britain. In Sweden it is led by Örebro University in co-operation with the real estate company Länsgården AB. The four-year project is coordinated by Scuola Superiore Sant'Anna in Italy.
Text: Linda Harradine