Spencer – a major success with passengers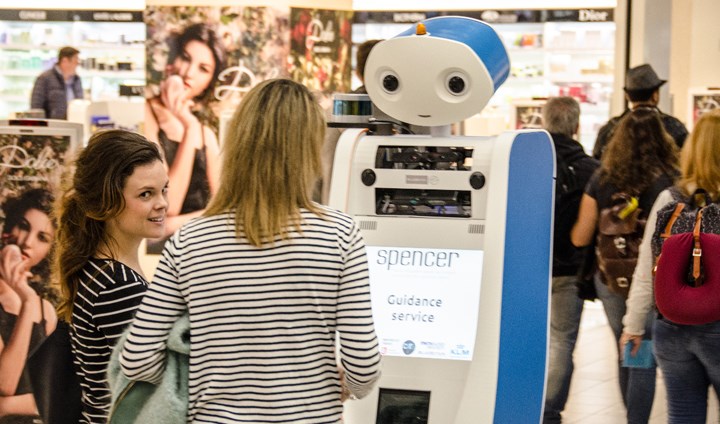 Spencer greeting people at Schiphol
Spencer the robot has shown that it is able to function in an airport. At the end of March, it registered passports and guided passengers through a crowded Amsterdam Airport Schiphol. This was the final testing of the three-year Spencer project.
Project: Social situation-aware perception and action for cognitive robots
Acronym: SPENCER
Type: STREP
Duration: start 04/2013, 36 months
"The project has been a tremendous success. The robot has been shown to act safely and without disruption in a major international airport, an environment that is a real challenge" says Kai Arras, the project manager.
Achim Lilienthal, professor of computer science at Örebro University, and his researchers have contributed to the research project by developing the robot's ability to interpret and navigate its surroundings.
"We are very pleased with the results and are delighted to have been involved and to have contributed to the project," he says.
The uniqueness of the project, is that Spencer can handle human social situations. With help of sensors, it registers people around it, analyses whether it is a group or a family, and is then able to perform in a "human" way.
Predicting human behaviour
It is these abilities that are essential for many robots which are to be used in homes, in factories and in self-driving cars. An airport with its crowds and general time restraints, is a good example of an environment in which a robot that guides and instructs people, must be able to operate safely and in a socially acceptable manner.
It is researchers from Örebro University working at the Centre of Applied Autonomous Sensor Systems (AASS) and the Mobile Robotics and Olfaction (MRO) Lab, who have participated in the Spencer project. Their task has been to develop the system enabling the robot to evaluate exactly where it is by observing its surroundings.
"This is especially challenging in an airport where the environment is constantly changing, with large crowds on the move and sometimes even blocking the robot's path," explains Achim Lilienthal.
The second task for the Örebro researchers was to develop methods for the robot to discern how people behave in different places in an airport, if they are in a queue, in a hurry or making sudden turns. It is imperative for robots performing in social contexts, to understand and predict human behaviour, such as the actions of the driver of a vehicle.
The Spencer project is a collaboration between a number of universities and companies in Europe, co-financed by the European Commission. The project's next step is to evaluate the results and Spencer's future.
Here you can watch a video with Spencer.

For more information:
Website: SPENCER, a European Research Project
Achim Lilienthal
Professor, School of Science and Technology
+46 70 531 79 84 or +49 176 311 810 22
Text: Maria Elisson
Translation: Jerry Gray
Photo: Spencer Robot at Schiphol Airport © 2016 KLM