This page in Swedish
Wallenberg on his visit: "Örebro is a centre for AI"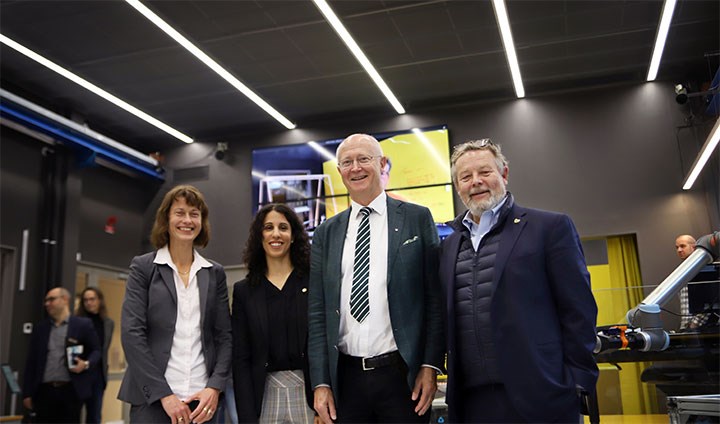 Sara Mazur, Amy Loutfi, Johan Schnürer and Peter Wallenberg Jr during their visit to Örebro University.
Peter Wallenberg Jr and Sara Mazur, chair of the national AI research programme WASP-AI, visited Örebro in October to get a closer look at the university's AI research programme. "This is a university with a way of thinking that is extremely exciting," says Peter Wallenberg Jr.

Peter Wallenberg Jr is chair of the Knut and Alice Wallenberg Foundation, which is investing more than SEK 1 billion in the AI research programme Wallenberg AI, Autonomous Systems and Software Program (WASP-AI). The chair of WASP-AI is Sara Mazur. Together they visited Örebro University in October.
"It is our first time here at Örebro University. We're visiting today since Örebro University is a contributor to WASP-AI and to the research that the Wallenberg Foundations has funded. We wanted to come and meet the group working here, to get a better understanding of how Örebro has developed into a centre for AI," says Peter Wallenberg Jr.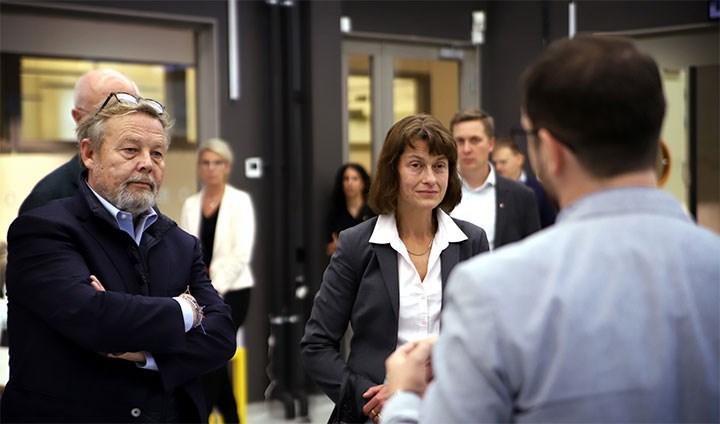 "Incredibly impressed"
Sara Mazur and Peter Wallenberg Jr began by meeting university management and some of the AI researchers at AASS, the Centre for Applied Autonomous Sensor Systems. Afterwards, they received a tour of the various AI research labs at the university.
"We've only been here a few hours and I must say that I'm incredibly impressed. Örebro is a university with a way of thinking that is extremely exciting – and with a sound development," says Peter Wallenberg Jr.
"It's truly a great pleasure to be here and to meet this group. What we've seen is impressive. Örebro University is a relatively new university in our ecosystem. Seeing how far you've come in your research and in your connection to industry as well as your breadth in AI, I think is amazing," says Sara Mazur.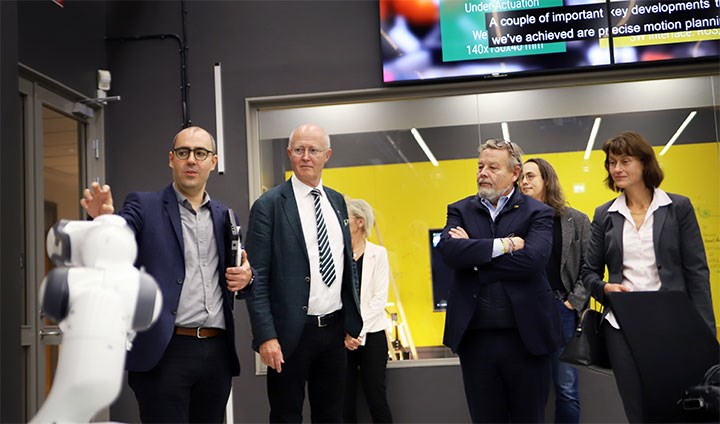 Is it your hope that your visit will result in even closer contact and further cooperation between WASP-AI and Örebro University?
"WASP-AI is Sweden's largest individual research project today. Since Örebro has joined the project and is already a vital part of it, naturally there will be further contacts in the future with Örebro University," says Peter Wallenberg Jr, and adds:
"It's always invigorating to come to a young, hungry university, which recognises that there's open competition even in research and education. This brings into being a more exciting, creative and innovative approach. Everything we've seen and heard of here is very thought-provoking."
AI to impact many aspects of the university's activities
Örebro University has long established itself with leading and internationally-known AI research, as a result of its robust research environment AASS led by Professor Amy Loutfi. In September, Amy Loutfi was appointed pro-vice-chancellor for AI. The goal to spread and integrate AI in other study programmes and disciplines at the university.
"The support that we have received from WASP-AI has led to a significant transformation at AASS, allowing us to continue contributing with high-quality research, while making an impact on the landscape of Swedish AI," says Amy Loutfi.
Örebro University's vice-chancellor Johan Schnürer agrees.
"Our ambition at Örebro University is to establish Örebro as an AI node in Sweden. The fact that Peter Wallenberg Jr and Sara Mazur have chosen to visit us – to learn more about our AI research – is a testimony that we are on the right track. One of the things we have demonstrated during this visit is the scope of our AI research. And thanks to our breadth, we are in a favourable position to to implement and spread our knowledge within AI to other disciplines at the university," says Johan Schnürer.
Learn more about the university's research within artificial intelligence.
Text and photo: Jesper Eriksson
Translation: Jerry Gray