New robot for rescue operations under development
In collaboration with German fire and rescue services, researchers at Örebro University are developing a new type of robot able to see and navigate in smoke-filled spaces. SmokeBot will prove valuable for rescue personnel, increasing safety and efficiency during rescue operations.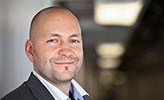 Rescue operations in poor visibility due to smoke and dust are full of risks and difficult to manage. With the help of new technology, such operations can become more efficient and save lives. Together with robotics industry partners, research institutes and universities in Germany and the UK, researchers at Örebro University in Sweden have now secured funding for the development of a robot for this particular purpose.
- The SmokeBot project aims at developing both hardware and software to enable a robot to orient itself and operate in severe conditions with very limited visibility, for instance in smoke, dust or fog. Existing systems cannot cope with such difficult conditions. This could prove a great leap forward for the development within robotics, says project coordinator and Professor Achim Lilienthal at Örebro University.
New solutions
The project will run over three and a half years and will result in a remote controlled robot prototype also able to navigate on its own, detect and analyse various gases and produce maps of its surroundings and of the spread of a target gas. In addition to their expertise on sensing technology, the Örebro researchers' contribution to the project is in the fields of signal processing and navigation.
- In addition to traditional sensors, using laser sensing technology, and cameras, this new sensing unit will include a novel 3D radar camera, a stereo thermal camera and high-bandwidth gas sensors.
The combination of cameras and sensors makes it possible for the robot to interpret its environment, fusing the information to form a picture of the scenario.
-To get there we need to develop new hardware like the radar camera, improve existing gas sensors and find new approaches to overcome the limitations of existing sensors.
Live testing
On the project, researchers are assisted by German fire and rescue services.
- The Dortmund fire and rescue services possess a lot of valuable, practical experience in terms of needs and methods used during rescue operations and this will be of great help to us in the development phase. They will also test the robot in real-life situations.
In total, the SmokeBot project has received 3.8 million euro from the EU Commission, 1.3 million euro of which have been channelled to the researchers at Örebro University. Collaboration partners are Leibniz University of Hannover, the Fraunhofer Institute for High Frequency Physics and Radar Techniques, the Austrian teleoperations solutions provider Taurob, University of Warwick and the Dortmund fire and rescue services.