This page in Swedish
New opening hours for our buildings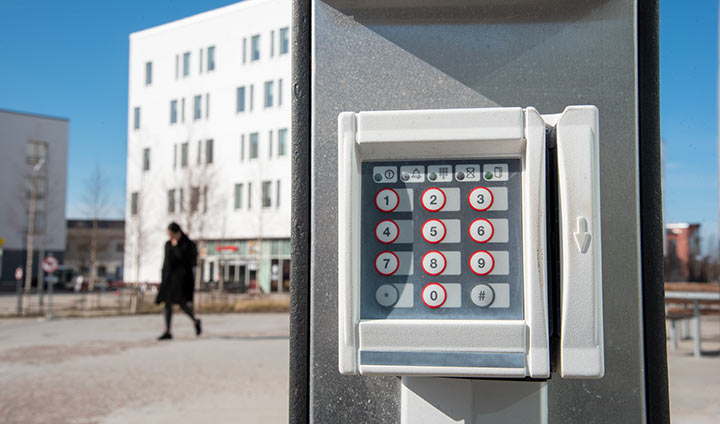 Key cards are now required for access to many of the buildings on our three campuses.
As of Monday 6 April, key cards are required for access to most of the buildings on our campuses.
Many of the doors will also be locked daytime.
Buildings with external tenants, such as the restaurants still open, will keep the doors unlocked at specified times.
For student access to other buildings, a University Card is required.
If you do not have a University Card, you may pick one up at the University Library on Campus Örebro during their opening hours – Monday to Friday 11:00–13:00. The University Card needs activating via the student portal Studenttjänster before use.
If you have any questions about the card, contact us via
.
Between 18:00 and 07:00 students are not permitted in any of the Campus Örebro buildings. Students who are on the premises outside of the opening hours will be required to leave. There are, however, a few exceptions from this – all local provisions can be found further down on this page.

Information on locked doors and access without a key card:
Campus Örebro
Building
Doors open/locked
The Annex
Locked
University Library
Open Mon–Fri 10:45–13:00
Bilbergska huset
Locked
Entréhuset
Open Mon–Fri 08:00–16:00
Forumhuset
Locked
Gymnastikhuset

Entrance by the Campus Gym

Open Mon–Thu 05:30–21:00

Open Fri 05:30–19:30
Open Sat 05:30–17:30
Open Sun 05:30–21:00

Other entrances – locked

Långhuset
Open Mon–Fri 09:00–15:00
Musikhögskolan
Locked
Novahuset
Locked
Prismahuset
Locked
Teknikhuset
Locked
Congrego
Locked
Örebro University Medical Campus (Campus USÖ)
| Building | Doors open/locked |
| --- | --- |
| Campus USÖ | Open Mon–Fri 10:45–13:00 |
Campus Grythyttan
| Building | Doors open/locked |
| --- | --- |
| Måltidens hus | Locked |
| Kärnhuset | Locked |
| Hälsans Hus | Locked |
To help reduce the spread of infection we encourage all students to study from home.
However some studies require working in groups, so we are making sure it is possible to meet on campus at specified times.
Everyone is urged to stay home at the slightest sign of illness.
For access to buildings on Campus Örebro 07:00–18:00, a University Card is required.
Between 18:00 and 07:00, all buildings are closed. Students on the premises at times other than the specified opening hours will be required to leave.
Computer rooms can be accessed all days of the week 07:00–18:00 by students with a University Card.
All university libraries have limited their opening hours to 11:00–13:00 Monday to Friday. Please note they are not to be used as study locations for groups or individuals. The Medical Library's extended opening facility ('Meröppet') is closed until further notice.
Exceptions
School of Music students have 24-hour access to rehearsal rooms by using their University Cards. This is because it is difficult to practise on certain instruments off-campus.
Students with placements (VFU) at the University Hospital and using changing rooms on Campus USÖ have access to Campus USÖ from 06:00 to 22:00. University Cards are needed for admission from 06:00 to 09:00 and from 14:00 to 22:00. Contact the study administrator at Campus USÖ if your placement means you need access outside of these times.
The entrances to the School of Hospitality, Culinary Arts and Meal Science on Campus Grythyttan are locked. Students can use their University Card to gain access from 07:00 to 22:00.
The opening hours for Gymnastikhuset (G building) on Campus Örebro follow those of the Campus Gym – for more information about opening hours visit their website www.campusgymmet.se.
Access to university buildings for employees with key cards is not affected.