This page in Swedish
Collaboration with Aston University can strengthen AI research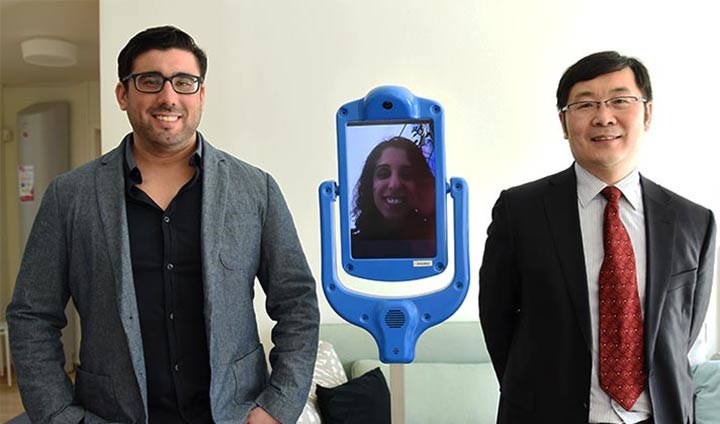 Amy Loutfi demonstrated how the robot Giraffe works for Diego Faria and Kaiming Zhou from Aston University.
Many new ideas about collaboration took shape when researchers from Aston University in Birmingham visited Örebro University. "We can complement each other in a good way," says Kaiming Zhou, researcher at Aston.
Kaiming Zhou and colleague Diego Faria visited Örebro University on Tuesday to discuss possible collaborative research in robotics and artificial intelligence (AI). The guests visited the three robotic labs at the Centre for Applied Autonomous Sensor Systems (AASS), where they received more information about the research being conducted there.
"We have a similar research focus and after our visit today, I am convinced that we will find several ways to collaborate," says Diego Faria.
Impressed by flat in Ängen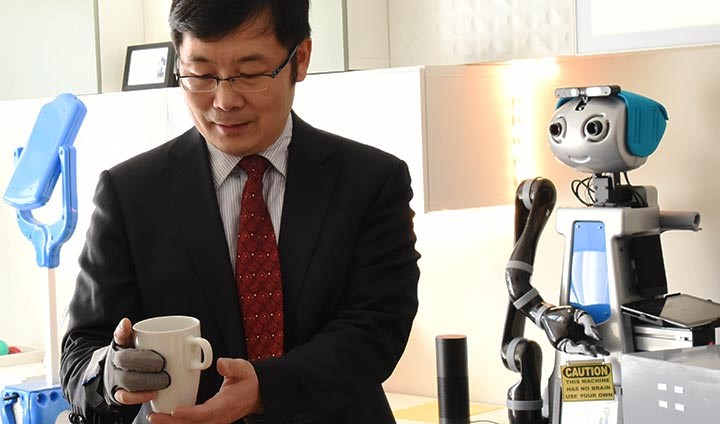 The visiting researchers also got the opportunity to get a tour of the University's research and innovation flat in Ängen. The flat is equipped with robots and sensors to help elderly and sick people to live an independent life and to improve their quality of life.
"I was very impressed with the 'smart home'," says Kaiming Zhou, who got the chance to test a tool specifically developed for a better grip.
He researches sensors used within robotics, where he sees many possibilities for future collaboration with researchers from Örebro University.
"These are two different research areas that complement each other quite well," he added.
Important with networking
In addition to joint research projects, future research and student exchanges were also discussed during the visit.
"An exchange of researchers is something we could start this year and then continue building upon this relationship with joint research projects," said Diego Faria.
Martin Magnusson, researcher at AASS, was also quite pleased with the visit.
"It has been found that we have many common interests, not the least in human-robot interaction, which deals with how people and robots interact and cooperate. I will be contacting some of their research colleagues and we are optimistic about developing several valuable collaborations," says Martin.
Since 2016, Örebro University has an extensive collaboration with Aston University in both research, education and collaboration. The agreement covers collaboration within all faculty areas at Örebro University.
Text: Jasenka Dobric
Translation: Jerry Gray