This page in Swedish
Enterprise Minister on the University's AI initiative: "This is smart industry indeed"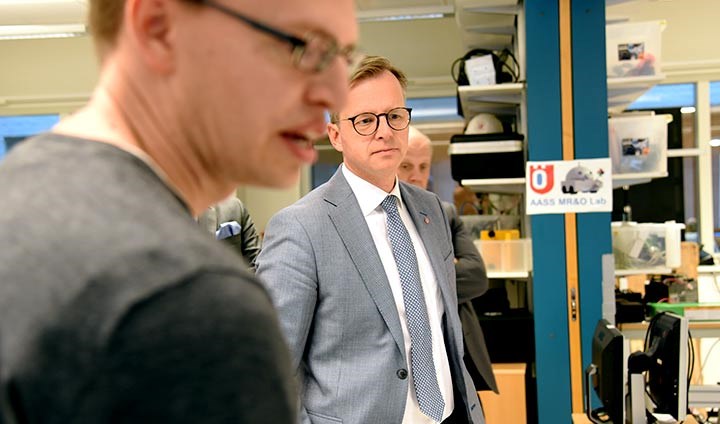 Mikael Damberg getting acquainted with Örebro University's AI initiative during his visit.
The Minister for Enterprise and Innovation visited Örebro to learn more about the University's Artificial Intelligence (AI) initiative.
Robots that clean 3D printers, sensors that prevent humans from being run over by heavy vehicles and robotic lawn mowers that can be outdoors for longer – all were items on the Swedish Minister for Enterprise and Innovation's agenda when visiting the University recently. "This is smart industry indeed," said Mikael Damberg about Örebro University's AI initiative.
The Minister for Enterprise and Innovation visited Örebro to learn more about the University's Artificial Intelligence (AI) initiative. In the robotics lab at the University's Centre for Applied Autonomous Sensor Systems (AASS), he met with researchers who are collaborating with companies in a variety of projects, as well as developing products for industrial needs.
"It is a strong research environment and so interesting to see that they are working so intensively at the intersection of AI and robotics. Since Sweden is an industrialised country, it is natural that Örebro University chooses to invest in this area, to update industry and make it more competitive," says Mikael Damberg.
Smarter industry with AI
Apart from the research that is taking place in close cooperation with industry, the University's AI initiatives also encompass the continued professional development of industrial experts. SMART(ER) is a national training initiative where Örebro University, together with the Swedish Institute for Computer Science, offers courses in AI and autonomous systems.
"I really believe that this is the way forward for Sweden. To wait for AI specialists to graduate will take too long, because the race has already begun. It is important that we focus on continuing professional training of those who are experts in their fields and already in the middle of their careers," says Mikael Damberg.
At the moment, some 20 employees from a number of companies are attending Machine Learning, a four-credit course at Örebro University. During talks with the Minister, everyone agreed that increasing the level of competence in the area of robotics and artificial intelligence is important for corporate competitiveness.
"AI is a relatively new area, and we must be skilled in niche areas. Be it self-driving cars, effective robots or life science, or even social insurance and tax agencies that can use AI to enhance effectiveness. Since we have a great deal of data and good systems, Sweden has good potential to be at the forefront of this development," says Mikael Damberg.
Met with students
During his visit at the University, Mikael Damberg also met with students and participated in a round-table discussion about collaboration between innovation, industry and students.
Teresia Ljung, Josephine Björn and Alva Hall, all students on the Social Analysis Programme, had the opportunity to speak about "professionsprofilen" – a forum where students from various programmes get the chance to meet employers seeking their skills.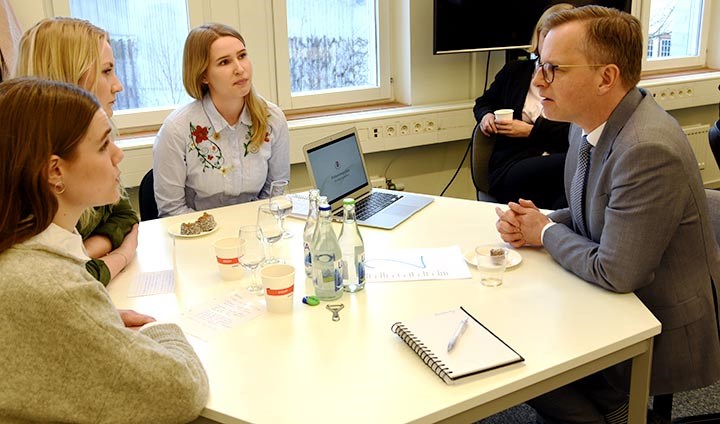 "It was very interesting to talk about this forum for employer-student interaction and explain the concept for Mikael Damberg. We are the first batch of students studying the Social Analysis Programme at Örebro and many have been concerned about not knowing exactly what they will be working with, but meeting with potential employers gave us a better idea," says Teresia Ljung.
Did you get any good advice from the Minister?
"Yes," says Josephine Björn and smiles. "He said there's no need to feel stressed and that you are more flexible than you think when it comes to choosing what area to go into after your studies."
Earlier in the day Mikael Damberg was a guest at a smart industry conference organised by the Royal Swedish Academy of Engineering Sciences (IVA) and held in Örebro.

Text and photo: Jasenka Dobric
Translation: Jerry Gray