This page in Swedish
Minister for Enterprise and Innovation: "Örebro has become one of the hubs in Sweden for AI"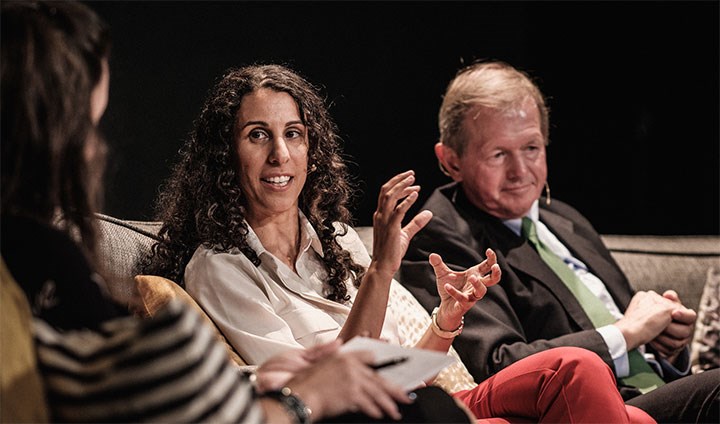 Amy Loutfi, Professor at Örebro University, and Marcus Wallenberg, Chairman of the Boards of SEB and Saab AB, on the panel at the Smart forum. Photo: Jonas André
"AI has the potential to be as great a revolution as industrialism," declared Sweden's Minister for Enterprise and Innovation Mikael Damberg, who also put forward Örebro University as an important player in the country's development within AI. "Amy Loutfi and other researchers are not only important for their research, but also for conveying this knowledge further."
Amy Loutfi, Head of the Centre for Applied Autonomous Sensor Systems (AASS) and Professor of Information Technology at Örebro University, recently participated in the Smart forum in Stockholm.
She joined a panel with heavyweights like Marcus Wallenberg, Chairman of the Boards of SEB and Saab AB, Mikael Damberg (S), Sweden's Minister for Enterprise and Innovation, and Claudia Olsson, founder and CEO of Exponential AB.
The subject for the day was artificial intelligence, AI. A hot topic to say the least.
"AI is a new technology that opens up a whole new window of opportunities, both economically for developing business and the public sector in Sweden, but also for improving people's lives. This may include AI detecting dyslexia in children early on so that we can provide them the right support and help or identifying cancer at an earlier stage than doctors are able to do today. AI also raises moral and ethical dilemmas that must be dealt with", says Mikael Damberg just before the debate was to begin.
Some believe that the AI revolution can be as significant as industrialism. Do you agree?
"I think so, in the long term. It's really hard to conceive what AI might accomplish in 30–40 years, there are huge opportunities awaiting. On the other hand, I think that ordinary people may take notice of AI by application, when using a mapping app or watching Netflix, as a few examples."
Mikael Damberg also took the opportunity to point to Örebro University as a major player in the AI development in Sweden.
"Örebro University has become one of the hubs in Sweden for artificial intelligence and have been quite productive. Not least as knowledge brokers, so that more people understand what AI represents. But also, that you need to acquire strategies for it and consider competence management, which is key", says Mikael Damberg.
"Amy Loutfi and other researchers are not only important for their research, but also in passing this knowledge on to students, businesses and to public administration. That is why the government has also chosen to focus on the interaction between academia and industry in terms of competence management."
At the same time, there are those who claim that Sweden is lagging behind in development?
"I think a lot of countries have considered whether they were perhaps late starters and haven't done enough. Which is common when it comes to a technology shift. On the other hand, if you rank countries that are able to apply AI successfully, then Sweden ranks very high."
"So, it's also a question of how well we use resources and how we may join forces, so that not everyone assumes that they must do everything themselves. The latter is seldom an approach that works out well for small countries like Sweden."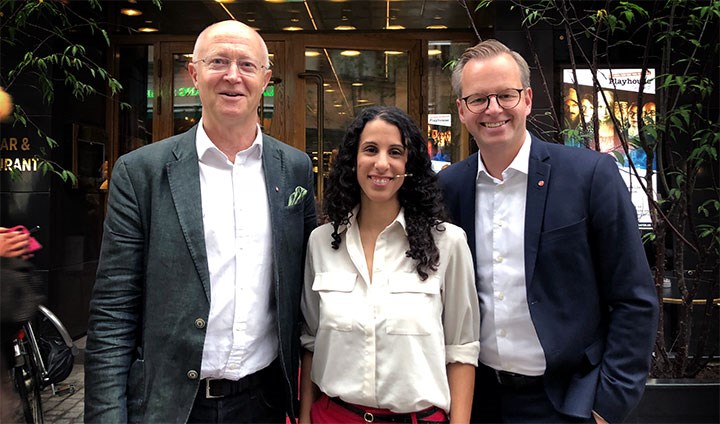 The debate focused on the technical, economic and ethical aspects of AI. Organised by the foundation Smart forum and led by the moderator Mia Odabas, it attracted a large audience to Drottninggatan in Stockholm.
Marcus Wallenberg, representing the Wallenberg concern who is investing SEK 1.6 billion in AI over the next ten years, voiced his concerns that Sweden risks falling behind the pace. Amy Loutfi, however, preferred to present a more balanced picture and pointed out that comparing Sweden with countries like the US and China is not really fair.
On the contrary, she believes that being third, rather than first is not necessarily a disadvantage.
"Not being leading isn't always a problem, because you can then learn from other people's mistakes. I think there is a strong possibility that we will not only catch up, but that we can also niche ourselves in some areas."
"More knowledge is needed - and less fearmongering"
The discussion also revolved around the perceptions of AI; that some see it as something very negative and believe that AI will create mass unemployment, while others are more optimistic and see AI as a solution to several of the global problems we are facing.
Amy Loutfi stated that she believes more knowledge is needed, more dialogue, and less fearmongering with regards to AI, and that there must be a stronger focus on the role of humans and not just technology. Afterwards she was quite pleased with the debate.
"It was Interesting, good. I think that there's a heightened need for meeting and sharing experiences. In the face of major disruptive changes, like AI, this is even more important. We need to create forums to help us deal with the fears that easily surface in anticipation of major changes."
Text: Jesper Eriksson
Photo: Jesper Eriksson and Jonas André
Translation: Jerry Gray