This page in Swedish
Örebro University strengthens its resources for internationalisation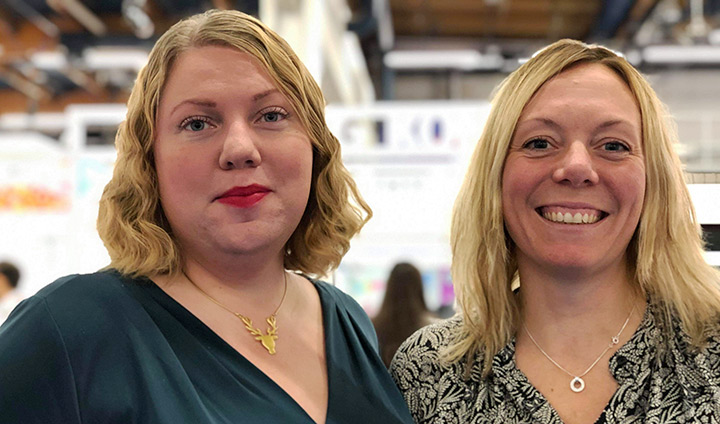 Ida Andersson-Norrie,international strategy officer and Jenny Peterson-Engström, international operations coordinator at the International Office.
An international academic environment is a prerequisite for high quality research and education. For this reason, the university is strengthening its work on internationalisation.
Ida Andersson-Norrie, previously administrative manager at Örebro University School of Business, was appointed international strategy officer in September. She will be working closely with Åke Strid, pro-vice-chancellor for internationalisation. In addition, Jenny Peterson-Engström will serve as international operations coordinator at the International Office. These positions are part of the university's efforts in strengthening its resources for internationalisation.
"These two appointments clearly show that Örebro University is investing significantly in internationalisation, which will benefit the university through higher quality education and research," says Ida Andersson-Norrie.
Focus on strategy and partnership
An important focus area that Ida Andersson-Norrie and Åke Strid will work on is a new strategy for internationalisation.
"We will start by evaluating our current strategy. From there, we will set forth how the framework for the organisation and support for internationalisation will be formed in the coming years. This work will be undertaken in close coordination with the International Office, schools and management," says Ida Andersson-Norrie.
Another focus area is the university's strategic partnership with Aston University in Birmingham, England.
"We're looking at the possibilities of further cooperation with Aston University, which could lead to our Master's students receiving a so-called double degree, that is, a degree certificate from both universities. The goal is that Örebro University will be part of several strategic partnerships from which both our students and staff will benefit," explains Ida Andersson-Norrie.
New role – international operations coordinator
Jenny Peterson-Engström, previously international coordinator, is now serving as the international operations coordinator at the International Office.
"My new position means that I have the overall responsibility for the International Office, providing a natural point of contact for researchers, teachers and staff who have questions about international opportunities. We will be focusing on improving and developing our support for schools and their work with internationalisation," says Jenny Peterson-Engström.
Many opportunities for exchange
Örebro University has today exchange agreements with almost 150 universities around the world. Interest among Örebro students to study abroad has increased steadily. In the last academic year, 184 students took the chance to study abroad. In the coming academic year 2019/2020, it is expected that some 230 students will do some part of their studies internationally.
"Having an international understanding and intercultural competency is becoming increasingly more important, both in education and your professional life. Taking part in any of our international opportunities, like placement, exchange studies or minor field studies, increases the student's competitiveness in the job market," explains Jenny Peterson-Engström.
For employees at Örebro University, there are many opportunities to gain international experience, for both teaching and administrative staff.