This page in Swedish
Studying differences experienced by exchange students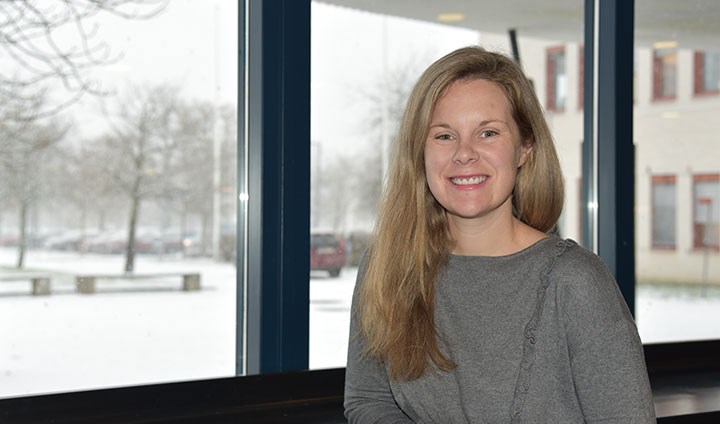 Taylor Kinde thanks Örebro University for letting her complete her study.
What academic and social differences do exchange students coming to Sweden encounter? How do international offices, student housing and the orientation for exchange students work? That is what Taylor Kinde wants to find out during her visit to Örebro University.
Taylor Kinde is from Iowa in the US, but now lives and works in Missouri. She first came to Örebro in the spring of 2011 as an exchange student. Now she is back to collect data for her doctoral dissertation. At University of Central Missouri, she works in the international education, where her role involves receiving exchange students, providing advice and administrative support during their studies in the US. Parallel to her work, she is working on her dissertation and the plan is to complete it in May next year. Her aim is a career within university administration.
"My studies leads to a Doctor of Education, an EdD, which is a doctoral degree that prepares students, for instance, for senior positions within teaching or administration within universities, schools or other organisations," says Taylor Kinde.
In her dissertation, she examines the experiences had by exchange students during their stay in Sweden and the US, in terms of academic and cultural differences. The students in her study come from all over the world. She also wants to look at what introduction the international offices offer the exchange students on campus and how student housing is organised. She also intends to find out what services are offered to these students, what works and what can be improved.
"I collect data through observations and by interviewing exchange students at Örebro University and University of Central Missouri," says Taylor Kinde.
Since she herself has been an exchange student in Sweden, she has first-hand experience of the academic and social differences between the two countries. In Sweden, students take one course at a time and sit the exam in conjunction with the course. In the US, students generally juggle four or five courses at the same time, taking tests during the course of the semester, only to take the final exams for all courses at the end of the semester.
Another difference is that in Sweden, there is scope on most study programmes for the students themselves to choose certain courses to be part of their degree. In the US, students are expected to follow strictly the course schedule.
Exchange studies and tapping into other cultures is something that Taylor Kinde thinks everyone should do. She believes it important to experience other cultures, other educational systems and other ways of life. And she practises what she preaches. Besides Sweden, she has also studied in Italy, Ecuador and Costa Rica.
"But for my doctoral dissertation, I chose Sweden as it is a country close to my heart."
She thinks that it is easy to understand Swedes when they speak and teach in the English language. She also has a good understanding of Swedish, especially when reading.
"What I remember most from my exchange is fika with coffee and cinnamon buns, snow and sauna," says Taylor Kinde.
Text and photo: Anna Asplund
Translation: Charlotta Hambre-Knight
In the US, as well as in some other countries, the Doctor of Education (EdD) is offered to prepare practitioners, such as teaching and administrative staff, for various senior positions within educational administration. A student aiming for an EdD researches a practical problem, examining how to solve it using existing knowledge. A doctoral dissertation completes the degree and the work is expected to take four to five years. The EdD has the same status as a PhD. There is no equivalent to the EdD in Sweden.