This page in Swedish
Master's students attended symposium with international scientists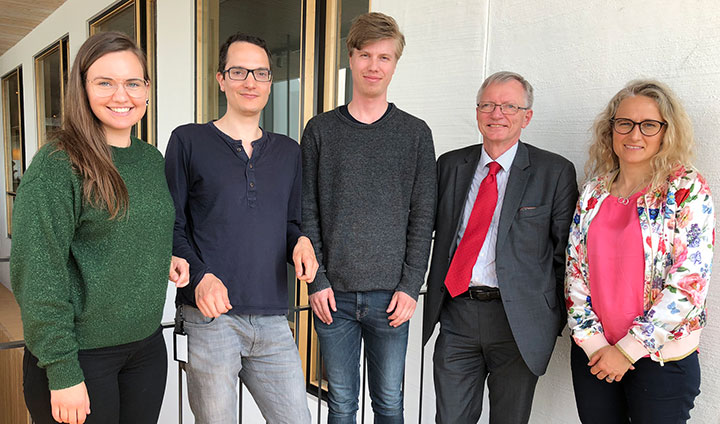 Lisanna Sinisalu, Pascal Camoiras, Pontus Larsson, Åke Bergman and Ingrid Ericson Jogsten.
Hazardous chemicals and efforts for a non-toxic environment were in focus when international scientists participated in a symposium organised for visiting professor Åke Bergman. Several Master's students took the opportunity to hear about the latest research.
Åke Bergman is a world-renowned figure within environmental chemistry – he has worked for the UN and is involved in several EU projects. Since the spring 2018, he is a visiting professor at Örebro University.
"Åke Bergman seems to be involved in almost everything. He has many good ideas," says Lisanna Sinisalu.
Together with Pontus Larsson and Pascal Camoiras, she is a student on the Master's Programme in Chemistry with a Focus on Environmental Forensics. The symposium for Åke Bergman included several international scientists as speakers and the students took the opportunity to attend the event.
World free from chemicals
Professor Juliette Legler from Utrecht University was one of the speakers. She was looking ahead. What would a safe world look like in terms of chemicals – a world where both humans and animals are protected from harmful chemicals?
Children and chemicals
The students also got to listen to Joelle Rüegg, researcher at Karolinska Institutet. Her research involves looking at the link between early life exposure to endocrine disrupting chemicals (EDCs) and conditions such as obesity and neurodevelopmental disorders.
Thyroid hormone affects brain
Thomas Zoeller is professor of biology at University of Massachusetts and visiting professor at Örebro University. His research focuses on how thyroid hormone deficiency affects foetal brain development.
The event closed with a lecture by Åke Bergman.
"The symposium made me realise the importance of communication and collaboration between the different natural science disciplines in order to achieve the best results," says Pontus Larsson.
"One thing that spoke to me was the importance of applying a critical eye to your own data. It is easy to overlook things, which will lead to inaccurate results," adds Pascal Camoiras.
Just like the instruction on the Master's programme, the symposium was entirely in English. In fact, it was the opportunity to study in English that attracted Lisanna Sinisalu from Estonia and Pascal Camoiras from Germany to Örebro.
"All research is conducted in English, and undertaking your studies in English is a step towards a career in research," says Lisanna Sinisalu.
Pontus Larsson has a Bachelor's degree from the Analytical Science Programme in Chemistry with a Focus on Forensics at Örebro University. Continuing his studies in Örebro was for him a matter of course.
"Örebro University is at the forefront of chemistry research. And the research conducted here is within a field that I would like to focus on in my career," says Pontus Larsson.
Text and photo: Anna Asplund
Film: Anders Liljenbring
Translation: Charlotta Hambre-Knight