This page in Swedish
Wall of ideas for a new school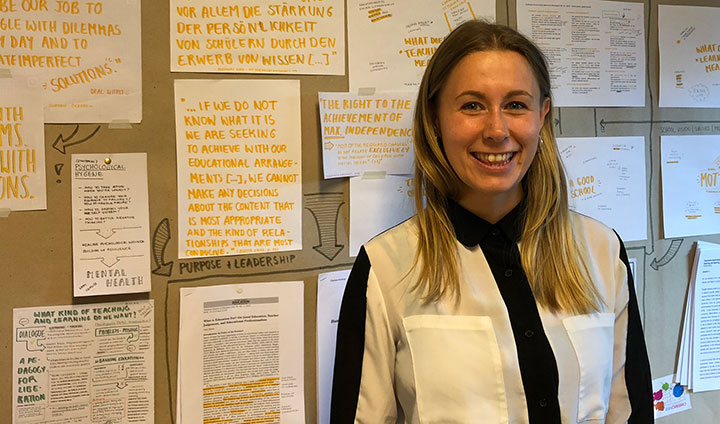 Exchange student Charleen Köntopp has a room at Örebro University where she together with fellow student Coralie Dulière are outlining what a school should be like. Inclusion, more teachers and smaller classes are important components. Their plan is to start a school in Belgium once they have graduated.
When teacher student Charleen Köntopp came to Örebro University from Germany, she met exchange student Coralie Dulière from Belgium. For several months now, they have been filling a wall in their project room with ideas.
"We have written notes on how we want to be as teachers and what school we would like to create," says Charleen Köntopp.
Near the town of Spa in Belgium, they have found a building that they will take a look at in August. Their dream is to start a new school there for children aged six to ten. Pupils will come from diverse backgrounds and Charleen Köntopp and Coralie Dulière want to work with inclusion.
"The building is close to nature and nearby is a complex where various disability specialists work. We would love to start up a collaboration with them. Being so close to a natural environment means that we can plan any practical components to the outdoors – which would be a strong point."
Smaller classes, more teachers and inclusion
For inspiration, Charleen Köntopp and Coralie Dulière have met up with students from various countries to learn about the ins and outs of different school systems. One country that has inspired them is Luxemburg, where a number of teachers work in the same classroom as a team or as specialists.
"In Germany, the teacher is often alone with a class of up to 30 pupils. It is then impossible to give each child the help and support they need," says Charleen Köntopp.
The school she wants to start is to have smaller classes, teachers who work together as a team in the classroom, and special needs teachers that are available to assist children with special needs. The goal is inclusion.
"A child with, say, autism, should not be separated from other children to attend a different school. We want to include all children at our school," she says.
Inclusion does not only cover children with disabilities.
"Among other things, LBTIQ+ is something that needs to be integrated in teacher education to enable teachers to pass on that knowledge to their pupils."
Charleen Köntopp has now finished her exchange studies at Örebro University. The ideas have been taken down from the wall, but will be uploaded to a digital format to enable her and Coralie Dulière to continue working on their plans from their respective home countries. Before they graduate, they will search for more inspiration and make study visits at different schools.
"We want to build knowledge in order to build a good school. Then we'll have to see what we can actually implement in practice."
Text and photo: Anna Asplund
Translation: Charlotta Hambre-Knight
LBTIQ+ is an umbrella term for the lesbian, gay, bisexual, transgender, intersex and queer communities.