This page in Swedish
Meal ecologist Erica is recycling in Tanzania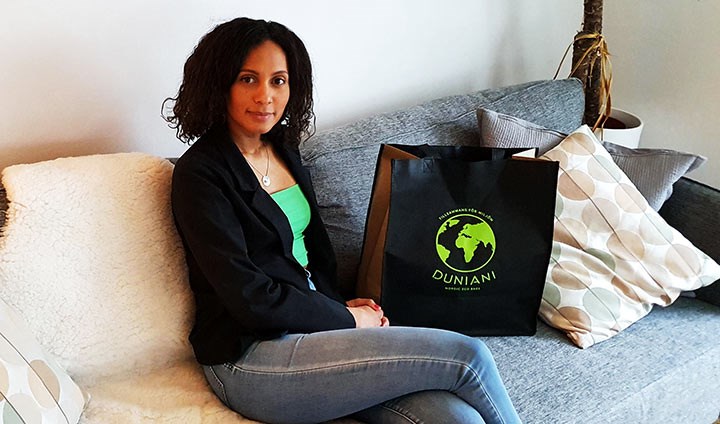 Born in Tanzania, Erica Sandberg came to Sweden at the age of ten. She is finishing her last semester in the Culinary Arts and Ecology Programme at Örebro University.
Erica Sandberg is studying the Culinary Arts and Ecology Programme at Örebro University – while running her environmental company, Duniani. Applying her acquired knowledge, she wants to help her native Tanzania.
"My dream is to build a recycling station and help people in becoming more environmentally aware."
Featured in film
Erica Sandberg, along with two other students from Örebro University, were feature in a film from the Student Impact Lab. Watch it here.
Erica Sandberg is finishing her last semester of the meal ecology programme at Örebro University. She started studying the programme to learn more about the environment and sustainability.
"Before I started studying, I had started my company Duniani a few years earlier. My first idea was to pursue environmental science, when I found this interdisciplinary study programme. We learn not only about the environment, but also comprehensively about food, such as food hygiene."
Long term goals
Duniani means "in the world" in Swahili, her mother tongue and Tanzania's official language. Her company sells environmentally-friendly recyclable bags. Proceeds will go to environmental work in Tanzania, with the long-term goal of building a recycling station there.
"I hope to realise this over the next ten years. I'm taking small steps because I want to have full control of what is going on. So, I took a break to complete my studies. Tanzanians do recycle, but not in structured way."
When starting up her business, Erica Sandberg sought help from Drivhuset in Örebro. They help people wanting to start their own business, or already have a business and need help in developing it.
"They are welcoming and have an open mindset. I got a lot of material to read. And found I out that I needed to develop a business plan and clearly describe what my idea entailed."
A thousand bags
Erica developed a prototype of the bag. She did her own marketing research, polling people outside grocery stores in Örebro. She questioned if they would consider buying the bag, and how much they were willing to pay it. She then printed a thousand bags – and has already sold 900 of them.
After graduating from Örebro University, Erica Sandberg hopes to find a job as an environmental coordinator or environmental consultant. She did her placement at Örebro Municipality, working with ecological sustainability. There are also plans to let Duniani grow in the future.
"I could develop it further by selling a variety of environmentally-friendly products. Or reorganize it into a voluntary organisation," says Erica Sandberg.
Ends up in the ocean
She visits her mother and other relatives in Tanzania about once a year. Over the years, she has visited, among other places, the country's largest landfill, and established contacts to continue working on environmental issues.
"We will try to prevent rubbish from ending up in landfills from the start. A lot of waste is burned or ends up in the ocean of the coast of Tanzania."
Text: Mikael Åberg
Photo: Private
Translation: Jerry Gray