This page in Swedish
Örebro University School of Business in the upper tier of international ranking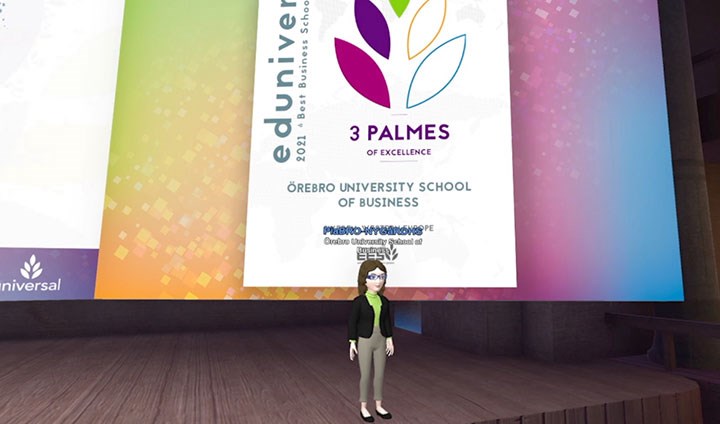 Awards ceremony 2021 – an avatar receives Örebro University School of Business's 3 Palmes of Excellence.
Örebro University School of Business is once again among the world's best business schools, according to the international ranking institute Eduniversal. "Our ranking confirms that our quality efforts are paying off," says Erik Löfmarck, head of school.
Eduniversal, based in Paris, each year ranks the top 1,000 business schools in the world, out of some 16,000 in 154 countries. The top 1,000 are ranked among themselves and awarded Palmes of Excellence, with the highest-ranking institutions awarded five Palmes.
This year, Örebro University School of Business received three Palmes. The recognition stands for "Excellent Business School, with increasing international importance". Accreditations, together with internationalisation and the university's placement on other ranking lists, are key criteria for Eduniversal's ranking. The ranking includes nine Swedish universities, with Stockholm School of Economics topping the Swedish list.
"Good positioning on ranking lists like the Eduniversal ranking means that opportunities for us to team up with even more international partner universities increase, something we are always actively pursuing. We want our students to have the opportunity to participate in exchanges with high-quality higher education institutions," says Pia Bro-Nygårdhs, head of internationalisation at Örebro University School of Business.
Erik Löfmarck, together with Elin Vimefall, deputy head of school, and Pia Bro-Nygårdhs, received the award at this year's online congress. Nevertheless, the awards ceremony was conducted on stage – with recipients in the form of avatars.