This page in Swedish
Ambassador's visit strengthening Japan–Örebro University relations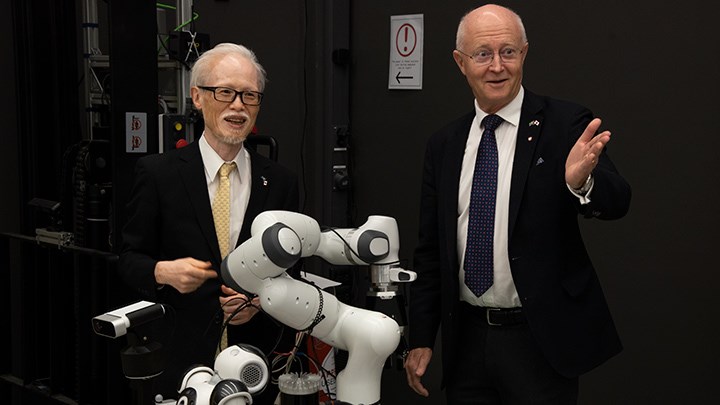 Japan's ambassador Noke Masaki was given a tour of the university by Vice-Chancellor Johan Schnürer and others. Here they are pictured during a visit to the robot lab.
Increased and enhanced collaboration was in focus when Japan's ambassador to Sweden visited Örebro University.
"We are delighted that we get to further strengthen our ties to Japan," says Vice-Chancellor Johan Schnürer.
There is already successful collaboration between Örebro University and Japanese higher education institutions. Exchange agreements with Kansai Gaidai University and Yokohama City University enable students from Japan to study in Sweden and Swedish students to study in Japan.
In addition, a number of short-term projects have been carried out. For example, some 30 business students from Yokohama have visited Örebro to study Swedish corporate culture.
Mirai 2.0 – research collaboration with several universities
Researchers from Örebro University are also partnering with Japanese counterparts on several different projects. Development of artificial intelligence and improvement of quality of life for older people are some of the fields researched within the framework of Mirai 2.0, a collaboration between 11 Swedish and 9 Japanese universities.
In fact, the Mirai 2.0 partnership is the very reason for the Japanese ambassador's visit to Örebro University.
"I am here to learn more about Örebro University's collaboration and exchange with various partners in Japan. I am also looking forward to learning about Örebro University's competitive advantage," says Ambassador Noke Masaki.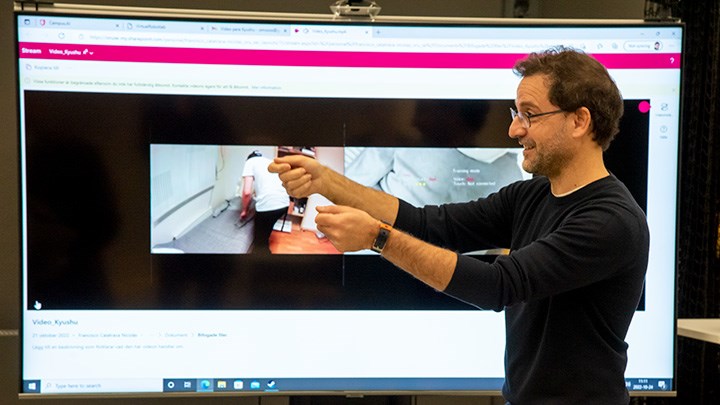 "Unique robot lab"
The ambassador was given a presentation on Örebro University's research within nursing science by Professor Dimitri Beeckman. He was also given a tour of the university's robot lab, where researchers Andrey Kiselev and Oscar Martinez Mozos presented some of the research projects underway on AI and mobile robots.
"It was very interesting to see the robot lab. Not only is it original compared to other institutions, it also has a lot in common with Japanese companies. I find it fantastic," says the ambassador.
Important collaboration in difficult times
For Örebro University, this visit presents an opportunity to further strengthen its relations to Japan. Vice-Chancellor Johan Schnürer points to Japan as a nation renowned for its high-quality research.
"We are deeply honoured to have the ambassador of Japan in Örebro. I am pleased with the collaboration between our two counties within Mirai 2.0. It is especially important that Sweden and Japan, being two democratic countries, strengthen their ties and links in what is a very difficult world. A lot can be done online, but meeting face to face is a key to future success," says Johan Schnürer.
Text: Anna Lorentzon
Photo: Jesper Mattsson
Translation: Charlotta Hambre-Knight