This page in Swedish
Master's programme open for research: "We're thrilled to be at Örebro University"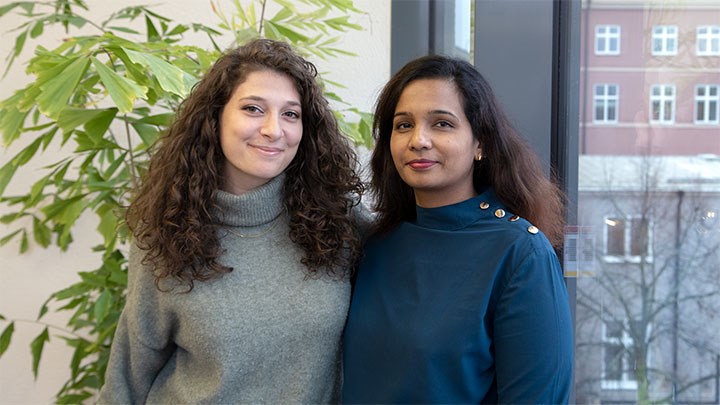 Myrto Chatzopoulou and Jishamol Veettil at Örebro University Medical Campus, or Campus USÖ.
For Jishamol Veettil and Myrto Chatzopoulou, the Master's Programme in Experimental Medicine was the starting point for a career in research at Örebro University. Now they work in the laboratory alongside teachers from their study programme.

"Everyone here is so inviting and generous with their knowledge," says Myrto Chatzopoulou.
Jishamol Veettil holds a Master's Degree in Biotechnology from her native India. She applied to the Master's Programme in Experimental Medicine at Örebro University to learn more about research and graduated this past spring.
The programme led to a position as a research assistant at the School of Medical Sciences in Örebro. She currently works within Örebro University's Cardiovascular Research Centre (CVRC), where research is conducted on heart, blood, and blood vessel-related diseases.
"I am part of a global project here at Örebro University, where we collaborate with researchers in Canada and Australia along with companies in the biomedicine industry. The project aims to identify the most important biomarkers and map the molecular mechanisms underlying heart problems, for example, in connection with influenza infection. Our long-term goal is to develop an artificial heart model to study the mechanisms in detail in the lab," explains Jishamol Veettil.
"I'm extremely pleased to be a part of this project. It has the potential to make a difference for patients. In the long term, my goal is to enrol in doctoral studies and, through my research, contribute to reducing mortality from heart attacks, a widespread cause of death. Especially from where I come from in the region of Kerala in India," she adds.
First master's programme – then doctoral studies
Myrto Chatzopoulou, who comes from Greece, was attracted to the strong research in the field of nutrition-gut-brain at Örebro University. After her work placement here, she enrolled in the two-year Master's Programme in Experimental Medicine.
After graduation, Myrto Chatzopoulou was admitted to doctoral studies at the School of Medical Sciences. Now she is studying full-time the interaction between the gut and brain.
"In my project, we mainly work with older people to find out if dietary changes can improve their mental health and cognitive ability, for example, by eating a special diet or taking supplements in the form of probiotics," she explains.
"It's all very stimulating. And that is exactly what I was looking for – a chance to immerse myself in how bacteria in the intestinal tract affect our behaviour and brains. In Greece, I was focused mainly on the brain, so it's fascinating to learn more about the gut. Everything fell into place during my master's programme here," says Myrto Chatzopoulou.
Spreading knowledge about healthy eating
After completing her PhD, Myrto Chatzopoulou is looking forward to continuing research in her area of expertise – and she hopes her knowledge will contribute to more people living healthier lives.
"I want to be a proponent of a good gastrointestinal environment and spread knowledge about how a healthy diet can even positively impact our brains," she says.
What's it like researching with those who used to be your teachers?
"Even during the master's programme, researchers here were keen to share and teach us about their research fields without being the least bit hierarchical. So in a way, it felt like we were colleagues already then. Now, of course, it's nice to go to the fikarum and enjoy coffee together. And get a chance to see the fun side of a researcher's life", says Myrto Chatzopoulou and laughs.
Robust research – at a high level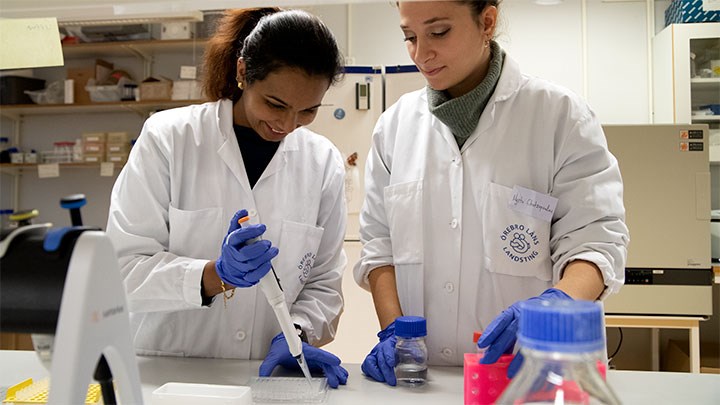 Both Jishamol Veettil and Myrto Chatzopoulou say they are thrilled to be part of a robust and internationally recognised medical research environment at Örebro University.
"Our colleagues are experts in their respective fields. We also have fantastic premises here on Campus USÖ, which allow performing experiments at a very high level. Explain what you want to do – and it can be done. I'm enjoying being here a great deal," says Jishamol Veettil.
"In addition, life here in Örebro is absolutely fantastic. Nature is close by, so you can go hiking and visit beautiful lakes over the day. We've even seen the northern lights! Getting to know students and researchers in other fields is easy, too," says Myrto Chatzopoulou.
Text and photo: Anna Lorentzon
Translation: Jerry Gray