This page in Swedish
Örebro University seeking status as a European University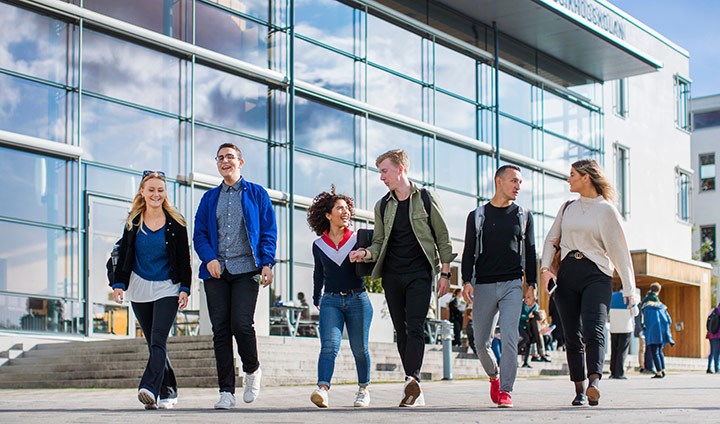 Örebro University is one of nine young European universities that together form the alliance NEOLAiA. The initiative is intended to strengthen the member universities' international competitiveness and increase opportunities for internationalisation of education, research and collaboration.
Since 2020, Örebro University is a member of the university alliance NEOLAiA. Together, the alliance is applying for status as a "European University" within the framework of the European Universities Initiative (EUI) – an EU programme set up to strengthen strategic partnerships between European higher education institutions.
"The EU's goal is to have around 60 networks of European Universities by 2024 to build the future European higher education sector. For Örebro University to want to be a part of the initiative is a given. NEOLAiA is made up of strategically selected, like-minded institutions that cooperate to build internationally competitive education and research. Together we are addressing various challenges that face society, inspired by European values such as democracy, freedom of speech and tolerance. In today's world, this approach is more important than ever," says Vice-Chancellor Johan Schnürer.
For NEOLAiA, whose application will be submitted end of March, EU funding would mean that the partnerships can be further consolidated and developed.
"Should the application be approved, this would involve a major contribution of funds which can be used towards intensifying the development of NEOLAiA. It would provide ways of reinforcing internationalisation efforts in cooperation with eight strategic partners who are all working towards common goals," says Åke Strid, pro-vice-chancellor for internationalisation and infrastructure.
Diversity and inclusion, digitalisation and global health
The joint action within NEOLAiA is within education, research and collaboration and builds on three focus areas of regional relevance. These are digitalisation and its impact on sustainable development, global health, as well as diversity and inclusion.

"NEOLAiA's focus areas are entirely in line with the strong research fields found at Örebro University, such as AI, sustainability, medicine and inclusion," says Åke Strid.
The work within the university alliance is divided into fifteen different work packages involving for instance entrepreneurship, digital transformation, education and learning, mobility, and research. Örebro University is particularly involved in the work on research, as well as in the projects on diversity and inclusion.
Many collaboration opportunities
In addition to the application for status as a European University, many activities and plans are underway at an individual and group level. These involve for instance research stays, agreements for student and staff exchange, joint seminars and courses, receiving interns, and creating a NEOLAiA student network, as well as a network within medicine and health.
"We're very pleased to see that so many researchers, lecturers and other staff have already got involved in various projects linked to NEOLAiA. This shows that there are ample opportunities for collaboration at various levels and that the alliance is on the right track," says Ida Andersson-Norrie, international strategy officer at Örebro University.
Örebro University is also in charge of a student survey within NEOLAiA on remote teaching, learning and well-being – both currently and during the COVID-19 pandemic. The survey results will be used in discussions and as a basis for further action on teaching, educational development, inclusion and digitalisation.
Text: Jasenka Dobric
Translation: Charlotta Hambre-Knight
Photo: Jonas Classon
NEOLAiA consists of nine universities from all corners of Europe. In addition to Örebro, the member universities include:
Bielefeld University (Germany)
University of Jaén (Spain)
University of Nicosia (Cyprus)
University of Ostrava (Czech Republic)
University of Salerno (Italy)
University of Suceava (Romania)
University of Tours (France)
Šiauliai State University of Applied Sciences (Lithuania)
European Universities Initiative (EUI)
The EU Commission's goal is to transform, in the long term, higher education in Europe to a "European Education Area". This would mean similar rules and qualifications criteria for all European students, while respecting regional distinctiveness and Europe's cultural and linguistic diversity.
The European Universities Initiative (EUI) is a way of encouraging, also by financial means, the establishment of university alliances throughout the union.