This page in Swedish
Record number of exchange students to Örebro University this autumn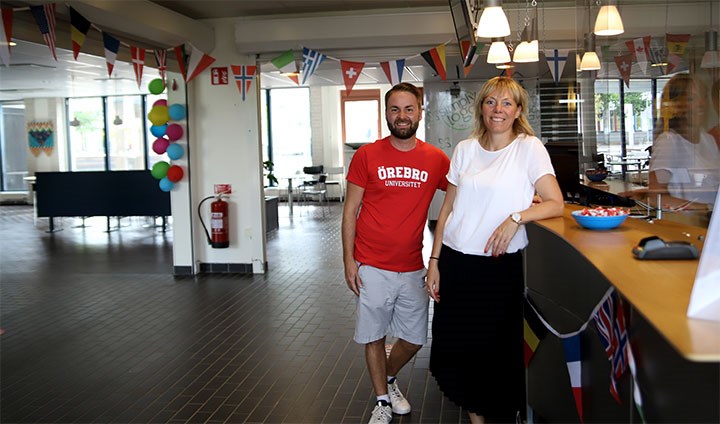 Fabian Schneider and Jenny Peterson Engström receiving the exchange students arriving at Örebro University at the Student Services Centre in Långhuset.
Last week, some 180 exchange students arrived at Örebro University. That is an increase compared to before the corona pandemic.
"At last we're able to welcome international students without restrictions," says Jenny Peterson Engström, international operations coordinator at the International Office, Örebro University.
The exchange students come from Örebro University's partner universities from all around the world. Japan, South Korea and Brazil are some of the nations represented among the 164 partner universities. The lion share of students come from Germany and France.
Why do you think more students are opting to come to Sweden and Örebro University?
"One reason may be that Sweden is perceived as a secure country to travel to now that the world is opening up again. We have not been under such fierce restrictions or lockdowns as many other countries. We also know that many choose to come here because they have spoken to previous exchange students who have been happy here and come away with positive experiences from their exchange at Örebro University," says Jenny Peterson Engström.
Arrival Days on campus
During Arrival Days last week, new exchange students gathered in Långhuset at Örebro University to sign housing contracts, pick up their keys and a welcome pack with things that will come in handy during their first few weeks in Örebro. On the Friday, a trip to Ikea was organised and this week, the orientation programme will kick off with a Swedish language course and an all-you-need-to-know information session before the start of the semester on 29 August.
"Our international student association, ESN, are also organising social activities, including a tour of the open-air exhibition Open Art and Örebro Castle. We're really excited about meeting all the new exchange students," says Fabian Schneider, international student assistant at Örebro University.
Contributing to internationalisation
The growing number of exchange students is a positive development for Örebro University, who are working to increase the number of both outgoing and incoming students. An international perspective contributes to higher quality of both research and education.
"Getting a chance to meet people from all over the world here on campus provides new perspectives, which is important, not least from an academic point of view. It contributes to internationalisation at home. Hopefully, it can serve as inspiration for our researchers, teachers and students, to go out into the world and bring back some new perspectives," says Jenny Peterson Engström.
Text and photo: Anna Lorentzon
Translation: Charlotta Hambre-Knight