This page in Swedish
Towards a future 'European University' – representatives from NEOLAiA's nine universities gathering in Örebro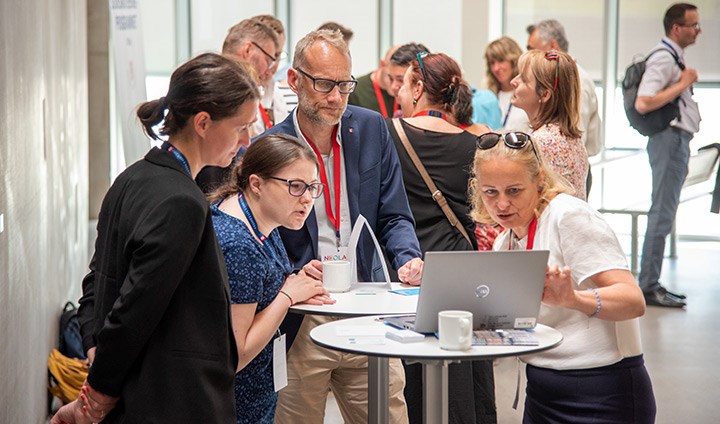 Sofia Sjödin, Martyna Sobczak and Peter Kjellström from the School of Law, Psychology and Social Work discuss student exchanges with Kamila Danihelkova from University of Ostrava in Czech Republic.
In the future, 'European Universities' is the way forward for offering higher education in Europe. Some 30 participants from NEOLAiA's nine universities have gathered in Örebro to deepen cooperation further. Together, these higher education institutions form the university alliance NEOLAiA, which recently submitted an application for status as a 'European University'.
Örebro University is part of the university alliance NEOLAiA since 2020. The partnership covers education, research and public engagement and builds on three focus areas of regional relevance. These are digitalisation and its impact on sustainable development, global health, as well as diversity and inclusion.
Over the last few days, representatives from all partner universities have been in Örebro to discuss the development of the network, collaborations, new ideas, and free mobility for students, researchers, teachers and other staff.
"We have been very successful in settling out the strategic direction for the alliance. A significant factor is the strong commitment from all vice-chancellors, which enables the alliance to develop further," says Sebastián Bruque, Vice-Rector for Internationalisation at University of Jaén in Spain and coordinator of NEOLAiA.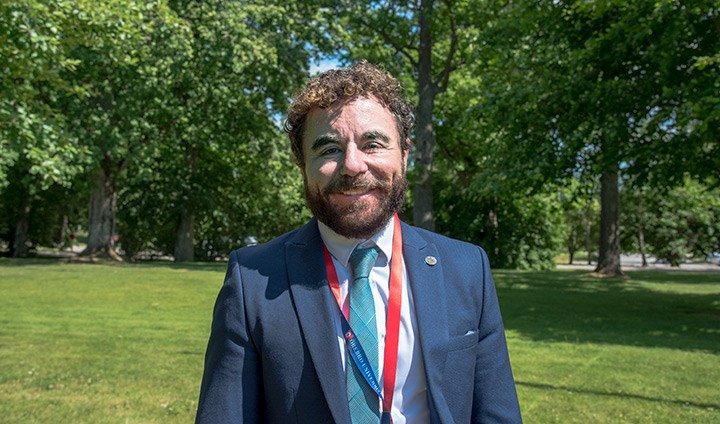 Focus on research
The work within NEOLAiA is divided into fifteen different work packages involving for instance entrepreneurship, digital transformation, education and learning, and mobility. Örebro University is particularly involved in the work on research, as well as in the projects on diversity and inclusion.
"In the coming months, we have chosen to focus on research since we already have the resources required to step up this work. Today, there are collaborations within digitalisation, for example, and networks within global health, language and literature, as well as within social sciences. Our next challenge is to apply for joint research funding within these areas," says Sebastián Bruque.
In total, 35 delegates from NEOLAiA's nine universities participate in the meeting. Among them are one student representative and seven vice-chancellors. In addition to the work on current projects, the participants are also discussing the potential for joint action within education, such as study programmes, courses, mobility, and summer schools. The agenda includes meeting up with representatives from Örebro University's schools and some of the university's regional partners such as the Swedish Association of Local Authorities and Regions (SKR), Statistics Sweden, and Region Örebro County. The guests have also been able to fit in a visit to Karlskoga and Alfred Nobel's estate Björkborn.
"Discussions have been very rewarding, and I will be leaving here with many new ideas. I am especially impressed by Örebro University's advanced collaboration with the surrounding society. That is something I think the whole alliance can learn from in different ways," says Sebastián Bruque.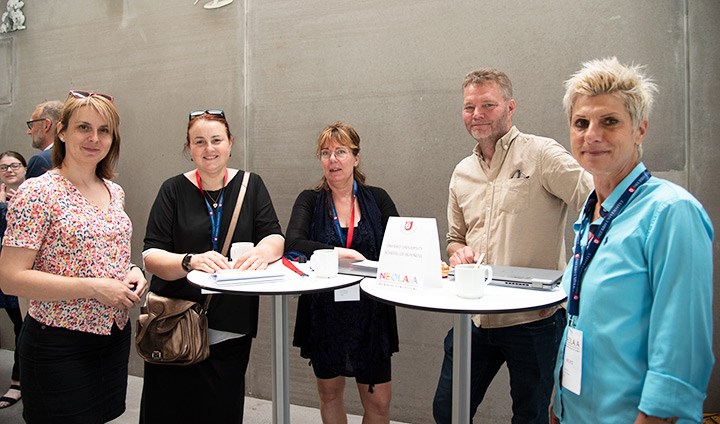 NEOLAiA has applied for status as a 'European University'
This spring, the university alliance submitted an application for status as a 'European University'. The decision whether NEOLAiA will receive any funding within the framework of the European Universities Initiative (EUI) is expected at the end of July.
"If we are awarded EU funding, it will provide significant support for the alliance, but competition is tough. If we are not successful in securing funding this time around, we will respond to the next call for applications, which will be at the beginning of next year. In the meantime, we will continue our work on the projects already up and running within the alliance," says Sebastián Bruque.
Why does Örebro University want to be a part of a European University?
"'European Universities' is the way forward for offering higher education in Europe in the future. Such a partnership would mean a greater chance to influence and develop education and research, more advanced collaborations, more and simpler student and staff exchanges, and more joint applications for research funding. As part of the alliance, we are working strategically with eight higher education institutions from different countries, which also raises the quality at Örebro University," says Åke Strid, Pro-Vice-Chancellor for Internationalisation and Infrastructure at Örebro University.
Text and photo: Jasenka Dobric
Translation: Charlotta Hambre-Knight
The university alliance NEOLAiA brings together nine European universities and cities: Bielefeld in Germany, Jaén in Spain, Nicosia in Cyprus, Ostrava in Czech Republic, Salerno in Italy, Suceava in Romania, Tours in France, Šiauliai in Lithuania and Örebro.