This page in Swedish
Winners of the Excellent Teaching Award 2021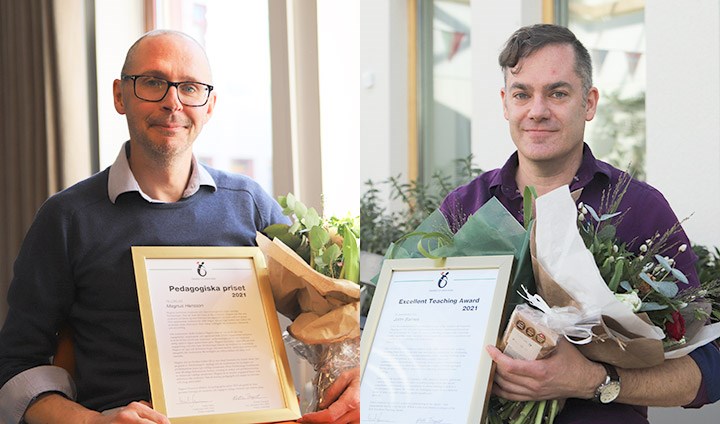 The number of nominations this year is at an all-time high! From the 372 nominations of 157 teachers, the Örebro Student Union has awarded the Excellent Teaching Award 2021 to Magnus Hansson and John Barnes. "I'm still in shock," says John Barnes.
John Barnes was invited to a meeting with Deputy Vice-Chancellor Anna-Karin Andershed to discuss teaching and learning in higher education. Upon arriving, he learned the meeting agenda had changed. Then he was taken aback when the Örebro Student Union announced that he was one of two appointed winners of the Excellent Teaching Award 2021. Also present were colleagues and representatives from the Centre for Academic Development.
John Barnes moved to Gothenburg from Australia 15 years ago, and after a few years in Gothenburg, he ended up in Mariestad.
"After checking a map, I saw two universities were close to Mariestad. One was in Karlstad, the other in Örebro. So, I emailed Steven Linton at the psychology programme in Örebro and asked if he had any courses that I could teach."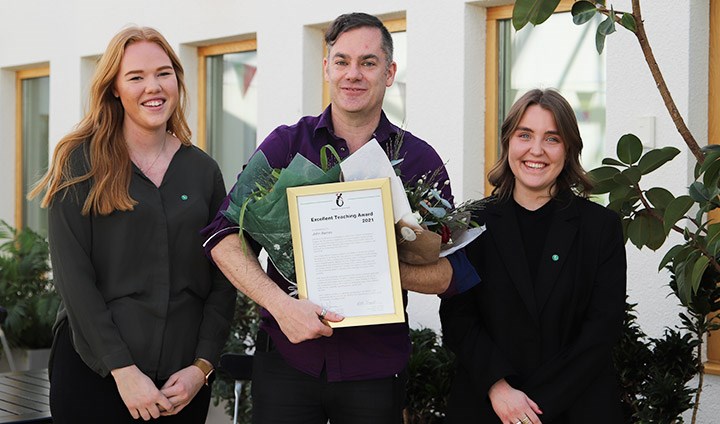 He has been a senior lecturer at Örebro University since summer 2011 and teaches psychopathology (scientific study of mental disorders) and cognitive behavioural therapy and supervises doctoral students.
"I really love teaching. It's an honour, and it means a lot to me to receive this award."
A second award for Magnus Hansson
Magnus Hansson's surprise moment came when visiting the learning lab to meet with Anna-Karin Andershed. He was also surprised by the Örebro Student Union, colleagues, and representatives from the Centre for Academic Development. He also received the award in 2014.
"This was very unexpected! I am incredibly honoured, happy, and very touched."
Magnus Hansson is a senior lecturer at the Örebro University School of Business and teaches organisational theory, leadership, and research method. He took a break from his studies for work in the business world before defending his doctorate thesis in business administration at Örebro University in 2008.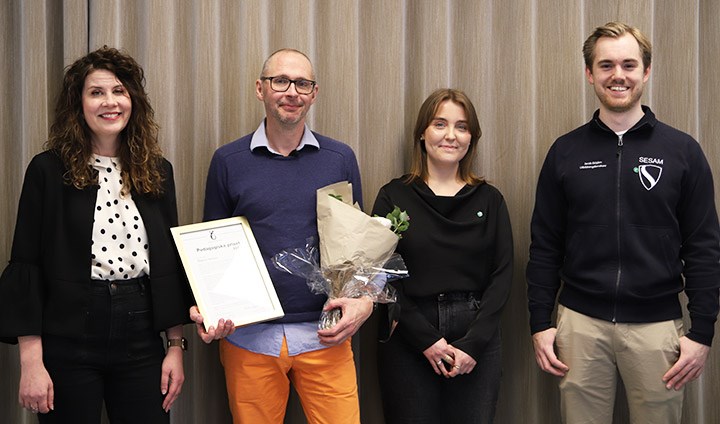 In teaching, he enjoys seeing how people develop, listening to students' thoughts and conducting dialogue to develop knowledge jointly.
"Good teaching is based on dialogue and exchange. There shouldn't be a power gap between teachers and students. We should be at the same level," says Magnus Hansson.
Since autumn 2021, he has worked part-time on teaching methods developed at the Centre for Academic Development, focusing on learning environments, including Learning Lab. The lab is a collaboration between Örebro University and Akademiska Hus. The goal of Learning Lab is to test and gather experiences about how space, teaching methods and technology can be used in learning environments of the future.
Text and photo: Anna Asplund
Translation: Jerry Gray
Since 1999, the Örebro Student Union has awarded the Excellent Teaching Award to two teachers who have "…demonstrated resolve and an ability to create, together with the students, a learning experience on a scholarly foundation, which is characterised by innovative teaching and learning methods; active knowledge development; critical thinking; and international perspectives."
Each year, students at Örebro University nominate teachers they believe convey knowledge with that extra pinch of dedication. An assessment group formed by students and the Örebro Student Union select the teachers who will receive the award, unaware of the nominated teachers' name, gender, or school affiliation.
The student union assessment group base their decision on five criteria. This way, the focus is on meeting the criteria, not the number of nominations a teacher has received and promoting a broader range of winners, independent of course size.
Before 2021, Örebro University and the Örebro Student Union have revised the wording for the award to one that is gender-neutral "the award shall be appointed to two persons".
The assessment group's five criteria:
Academic basis
How does the teacher display a broad, current, and research-based knowledge of the subject?
Innovation in teaching and learning
How does the teacher use various teaching methods to adapt to different levels and target groups?
Active ongoing learning
How does the teacher promote engagement among their students? For example, how does the teacher demonstrate that they listen to and apply student feedback to develop their teaching?
Critical thinking
How does the teacher encourage the development of students' critical thinking and problem-solving skills?
International perspective
How does the teacher show openness to different experiences and diversity?