This page in Swedish
New opportunities for international exchange within the teacher education programme – both for students and staff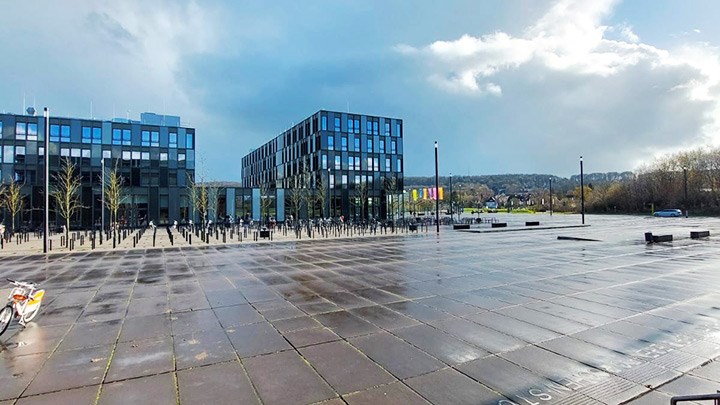 The course on inclusion and diversity gathered students and lecturers from nine European countries in Bielefeld, Germany.
Teacher students can now take a course in inclusion and diversity together with students from all NEOLAiA universities. The course combines online and onsite teaching and has during the spring been offered in Bielefeld, Germany.
About Blended Intensive Programmes within NEOLAiA
Blended Intensive Programmes, BIP, is a new format for Erasmus+ mobility. One criteria is that these shorter courses are to be offered in collaboration with at least two other European universities. The courses must also combine online and onsite teaching. Teachers who are interested in organising a BIP or want to know more can contact
, international coordinator at the International Office, or
, international strategy officer.
"It's been so rewarding to take this course together with students from other European countries. I hope other teacher students will take this opportunity," says Nisha Ericsson, studying at Örebro University to become a teacher of Swedish and English.
The course is a collaboration between Örebro University and two other NEOLAiA universities – Bielefeld University and University of Ostrava, Czech Republic. It is for 3 credits and is a Blended Intensive Programme – a new Erasmus+ mobility format where online learning is combined with onsite components.
"Besides interesting lectures and group work, what I'll take with me is all the conversations I've had with teachers and other students. It's allowed me to share other people's perspectives on inclusion and diversity and we have been able to compare notes on the work that is being done on these issues in our different countries," says Nisha Ericsson.
Pedagogical bootcamp
Anette Bagger, docent in education and specialising in special education at Örebro University is one of the teachers in charge of the course on inclusion and diversity.
"Planning, leading and delivering this course has been a very rewarding experience. It was an intense week, for both students and lecturers, and the week became somewhat of a pedagogical bootcamp," she says.
The course components include comparative perspectives on inclusion and diversity, how the education systems in the different countries approach and facilitate these perspectives, and a study and comparison of teaching material from different countries. Course participants included teacher students from eight NEOLAiA universities and ten students from Ukraine. Onsite at Bielefeld were also teachers from seven NEOLAiA universities and from Ukraine.
"Meeting students, contexts and perceptions of what learning and teaching is from nine different countries, there's a lot that you absolutely can't take for granted. The same applies to diversity and inclusion, both as phenomena and based on what's desirable. It was delightful to be challenged pedagogically and stimulated by all the sensible and dedicated students and fellow teachers," says Anette Bagger.
What challenges have you come across when planning the course?
"It's taken us about two years to set up the course and there's been a lot of us involved in doing so. The most challenges were really brought on by all the bureaucracy involved when nine universities are to coordinate efforts for managing and delivering higher education. But as long as there's a will to make the collaboration work and you realise not everything can be foreseen and planned beforehand, that's the most important thing," says Anette Bagger.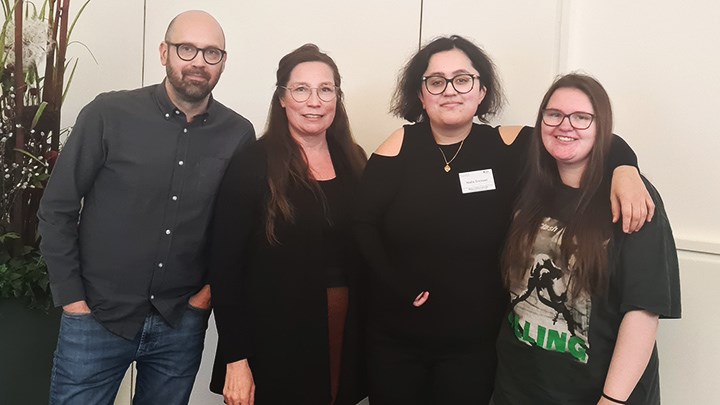 Two study visits
During the week in Bielefeld, students made study visits to two schools, one of which was a laboratory school – Laboratory School Bielefeld. Linked to Bielefeld University, the school's teaching is based on a learning philosophy with creative learning environments and teaching that centres on the needs of the pupils.
"Visiting this school was very interesting, seeing how philosopher John Dewey's ideas of learning were turned into practice. For example, the school has an open-plan design and very limited teaching-directed instruction," says Nisha Ericsson.
More opportunities for studying abroad
The new format for international exchange, Blended Intensive Programme, offering shorter courses, makes it possible for more students to study abroad.
"This is a way of furthering the university's internationalisation since many students for various reasons are unable to spend a full semester abroad," says Ida Andersson-Norrie, international strategy officer at Örebro University.
The course is offered again in the spring 2024 at one of the co-organising universities.
Text: Jasenka Dobric
Translation: Charlotta Hambre-Knight
Photos: Ida Andersson-Norrie och Jonas Ålander
The NEOLAiA university alliance

Örebro University is a partner of the university alliance NEOLAiA. The goal of the alliance is to strengthen the partner universities' international competitiveness and provide more opportunities for internationalisation of education, research and collaboration.
NEOLAiA brings together nine European universities and cities: Bielefeld in Germany, Jaén in Spain, Nicosia in Cyprus, Ostrava in Czech Republic, Salerno in Italy, Suceava in Romania, Tours in France, Šiauliai in Lithuania and Örebro.