This page in Swedish
New visiting professor wants to learn from the past for a better future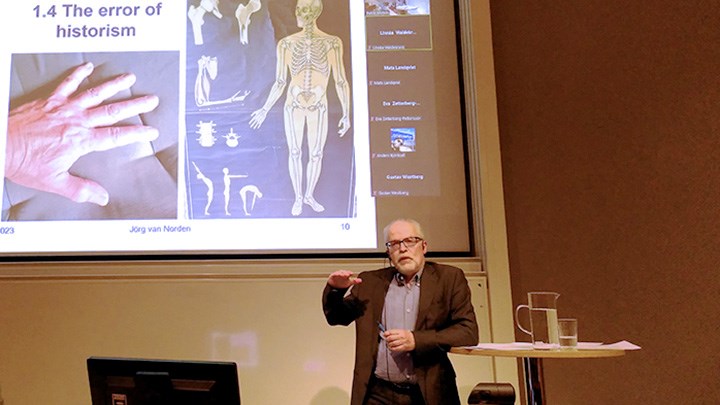 Jörg van Norden is professor of didactics of history from Bielefeld University in Germany.
He has taught history for more than 30 years and in his research, he is interested in linking the past to the present – as well as to the future. During May, Jörg van Norden, professor of didactics of history, is visiting professor at Örebro University.


About NEOLAiA
NEOLAiA brings together nine European universities and cities: Bielefeld in Germany, Jaén in Spain, Nicosia in Cyprus, Ostrava in Czech Republic, Salerno in Italy, Suceava in Romania, Tours in France, Šiauliai in Lithuania, and Örebro in Sweden.
The aim of the collaboration is to strengthen the universities' international competitiveness and provide increased opportunities for the internationalisation of education, research and collaboration.
"I hope to be able to convey a good understanding of the Bielefeld model for the didactics of history. But above all, I'm looking forward to exchanging knowledge and experience with my colleagues here in Örebro," says Jörg van Norden from Bielefeld University in Germany.
His visit to Örebro is part of a collaboration set up between history departments within the NEOLAiA Alliance – of which both Örebro and Bielefeld University are partners. Izabela Dahl, senior lecturer in history at Örebro University, has already held a post as visiting professor in Bielefeld.
"In Europe, Bielefeld are renowned for their history research in terms of both theory and methods and we are so pleased to welcome Jörg van Norden to Örebro," says Izabela Dahl.
Teaching, doctoral students and networking
Jörg van Norden's research is on theory of history, on progression of narrative competence, and on the pragmatics of history teaching. In Örebro, he has held a seminar on the importance of dealing with the past in order to create a better future. He spoke of how sharing historical depictions can conjoin the present, the future and the past in a meaningful way.
"The seminar was open to all researchers, doctoral students and students who are interested in subject didactics. It gave rise to many inspiring conversations and dialogue that will continue in various groups during Jörg van Norden's visit," says Izabela Dahl.
Jörg van Norden will also give history lectures to students on the teacher education programme. Moreover, doctoral students and researchers will be given the opportunity to discuss their research with him.
"The plan is also for us to discuss future projects and exchanges between our universities and within the framework of the NEOLAiA collaboration," he says.
"Jörg van Norden's broad competence within didactics of history enriches many ideas and current projects within studies of the humanities here at Örebro. An exchange with him highlights the significance of subject didactics with its specific methods and theoretical traditions," says Izabela Dahl.
Text: Jasenka Dobric
Translation: Charlotta Hambre-Knight
Photo: Trixie Jaala Thuresson