This page in Swedish
"Studying at Örebro University is a unique experience"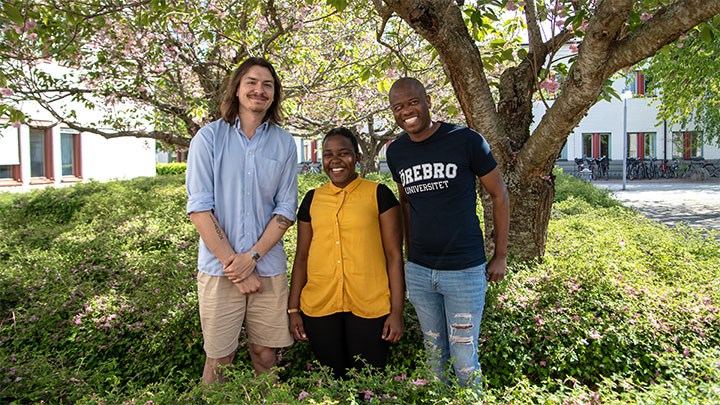 Silvestr Horák, Doreen Nakyejwe and Mthokozisi Moyo are among the 64 international students about to graduate from our international master's programmes this week.
Friendly and welcoming people, fantastic learning environments and flat organisational structures that are conducive to good relationships between students and teachers. That is how Mthokozisi Moyo, Silvestr Horák and Doreen Nakyejwe summarise their master's studies experience at Örebro University.

"Leaving your home country expands your perspectives," says Silvestr Horák from Czech Republic, who on his return home takes with him a very special tattoo as a memento from his time in Sweden.

Mthokozisi Moyo is from Zimbabwe and has studied the two-year Master's Programme in Sports Physiology and Medicine thanks to a scholarship from the Swedish Institute.
"Studying at Örebro University is a unique experience. Teaching is centred on problem solving and on our initiatives as students. Students' relationship with teachers and other staff at the school is helped by the flat organisational structure, which creates a positive setting for interaction and learning. I've had a fantastic time here. The town is quiet and relaxed, and everyone's friendly and welcoming," he says.
His goal is to pursue a PhD in sports medicine, while venturing further into football coaching. During his time in Örebro, he has worked as a medic for the football club Karlslunds IF. That way, he has been able to practise his medical knowledge, while learning more about coaching.
"I've enjoyed the time I've spent at Karlslunds Arena and I'm impressed by the way the club has managed to set up teams from the under 5s up to the senior level. This is something I wish I can copy and implement at home. For everyone to get a chance to learn and develop – players, coaches and referees."
Fantastic learning environment – but cold winters
Mthokozisi Moyo says that he has learnt about everything from training drills and tactics to how to help a team to recover from a bad match and to keep them motivated and stay focused after a big victory.
"I'd like to say a big thank you to my colleagues at Karlslund: Azad, Kari, Anders and Matthias," he says.
In terms of his student experience in Örebro he thinks that most things have been on point: study environment, accommodation, transportation and entertainment.
"The only challenge I faced was adapting to the Swedish winter. Örebro is a safe and quiet town that offers a fantastic learning environment. A tip to all future students is to find time to visit Karlslund Arena and watch great football," he says.
Wants to implement knowledge on sustainable development in Uganda
Doreen Nakyejwe from Uganda is graduating from the one-year Master's Programme in Public Planning for Sustainable Development at Örebro University. She says that although the teaching and examination formats are entirely different to those in her home country, it was easy to learn and navigate the new system.
"It's been so interesting – and a great learning journey. On the programme, my understanding of sustainable development have definitely increased, and I've become more protective of the environment. I'll now continue with my studies and go back to Uganda and implement the knowledge I've gained," she says.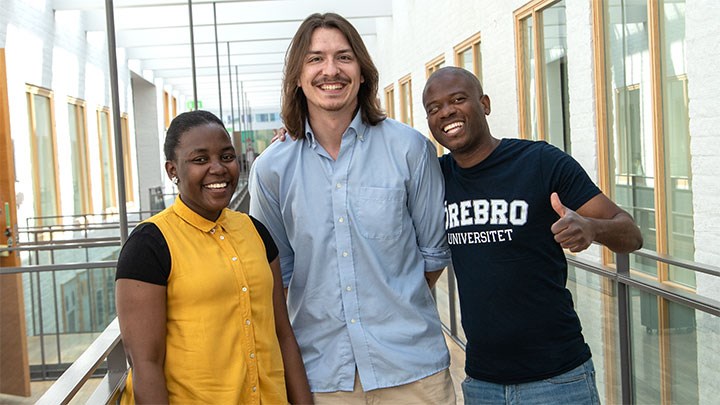 But first, this Friday, the farewell ceremony awaits, and Doreen Nakyejwe will give a speech to the other international students. Besides congratulating them, her message will be for them to dare to dream.
"I want to encourage them to aim high and never give up on their dreams. I want to wish them all the best in life after graduation," she says.
Do you have any advice for other students who are considering Örebro University?
"Örebro University is both welcoming and quiet – it feels like home. You'll be encouraged in your studies by supportive teachers and welcoming staff, and you'll have a lot of fun outside of your studies. What's more, Örebro as a town offers an amazing setting with wonderful and friendly people."
Taking with him a critical approach
Silvestr Horák from Prague in the Czech Republic graduates from the one-year Master's Programme in Strategic Communication. He says his bachelor's studies were more practically oriented, while he felt that the master's programme had a more academic profile.
"That may sound boring, but that's not the case! Studying here teaches you to adopt a critical approach to your field. There were smaller student groups and the friendly atmosphere – not only between students but also in relation to the teachers – was super charming. It's definitely different from back home."
The best thing about Örebro is also the most challenging – the fact that the town is relatively small.
"Örebro University is a solid academic choice but the true benefits lie in experiencing Sweden and for that, Örebro is the perfect town. The people I've met in Örebro are incredibly friendly and kind. The fact that everything's within biking distance is amazing. The slow pace of life can get a bit tedious, especially in the winter. But I still think that Örebro is the best choice for getting to know Sweden. There are lots of activities and events that provide a perfect picture of Swedish culture."
Increased competitiveness in the job market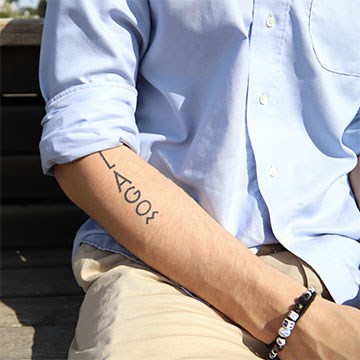 Silvestr Horák thinks that anyone considering studying abroad should go for it, even if it may seem scary to leave family and friends.
"Leaving your home country expands your perspectives and makes you realise how, despite different backgrounds, we're all the same. I'll never forget my time here, but I do look forward to going home to Prague. I'm planning to look for a job and then get another degree abroad. Having degrees from foreign universities will give me a competitive edge when applying for jobs."
I heard rumours about you getting a very special tattoo here in Örebro… Tell me more!
"Haha, that's right. I had a tattoo of the Swedish word "LAGOM" done in Örebro. It's a simple phrase, yet it completely encapsulates my encounter with the Swedish mentality. The tattoo is a memento from my time here. Life can be overwhelming at times, but just keep moving forward at a slow and steady pace. Not too much, not too little."
Text and photo: Anna Lorentzon
Translation: Charlotta Hambre-Knight
This week, 64 international students are graduating from one of the international master's programmes at Örebro University. They have studied statistics, social analysis, chemistry, experimental medicine, music and information security, to name a few. Read more about master's studies at Örebro University.