This page in Swedish
Vice-Chancellor's blog: Success and perseverance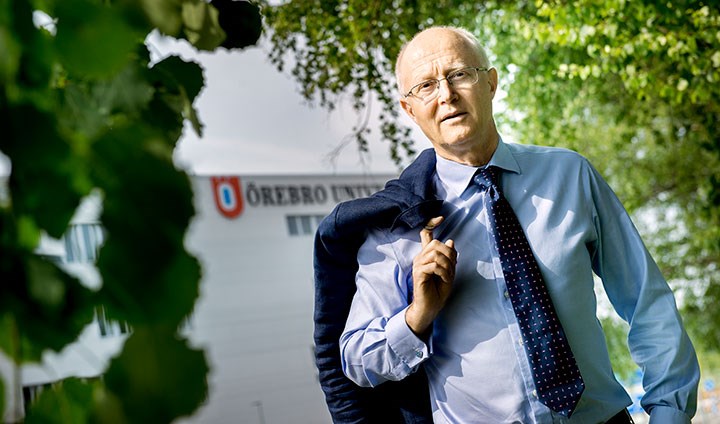 It is amazing to finally be able to meet staff and students on campus. Last week, for instance, myself and others so inclined were able to enjoy lunchbreak opera, performed by music students in the School of Music foyer. An eagerly awaited cultural boost as evenings are drawing in. Most of us are flock animals thriving on togetherness – for wellbeing and creativity. Some are perhaps happier alone by their computer, but I suspect they are few and far between.
Us now being able to meet again is a direct result of the successful use of the new RNA vaccines – only made possible by many years of diligent research within a number of disciplines. These research findings have then successfully been applied by an efficient life science industry, interacting closely with regulatory bodies and political systems displaying unusual resoluteness. Sweden is also lucky enough to have a healthcare system able to rapidly match new knowledge with proven experience.
Also our university has enjoyed considerable success recently, with several new major research grants within both Food and health and AI and robotics. Within the latter field, new opportunities are unfolding that are linked to sustainable mineral supply and mining, research which may well be combined with our social and natural science environmental research.
Just recently, we also received news about eleven new grants coming our way from the Swedish Research Council (VR).
Right or wrong, but VR grants are usually considered to be the grants that best signal scientific quality. A couple of schools have been very successful with VR, that much is clear. Others have to persevere in their efforts.
This week, there will be a workshop with presentations within our new university-wide Platform for a Sustainable Future (PSF). By harnessing the opportunities for multidisciplinary research projects and study programmes that are facilitated by a young, broad university such as ours, we hope to contribute together to a sustainable future. Sustainability is commonly associated with environmental aspects. In reality, the economic and social aspects of sustainability are just as important and often interlinked with environmental concerns. A related example is the relatively novel concept of "waste crime" where unscrupulous individuals and gangs make money on dumping hazardous waste. Another 'new' old sustainability concept is individuals' chances at economic self-sufficiency in relation to their visibility in labour market statistics. The first is a prerequisite to ensure dignity of the individual, long-term sustainability of welfare systems, and trust in society.
Within the environmental field, Örebro University has recently joined the joint Climate Framework for Sweden's higher education institutions where universities commit to:
• continue to help society as a whole to achieve set targets through education, research and external engagement,
• reduce climate impact in line with society's commitment as expressed in national and international agreements,
• set up far-reaching targets for climate-related work and allocate resources so that these targets can be achieved and monitored, and
• clearly communicate climate-related work in order to inspire and spread knowledge to other organisations and members of society.
Subscribing to these goals is the easy part. Meeting them, however, requires perseverance and hard work. The great enthusiasm for PSF bodes well for the university's ability to succeed.
Örebro University also heads up the Swedish node within Research Infrastructure for Environmental Exposure Assessment with 17 participant countries. In 2021, this initiative was one of the eleven major projects offered the opportunity to seek long-term funding from the EU body European Strategy Forum on Research Infrastructure, ESFRI. The work is led by the School of Science and Technology but may potentially involve several of our schools. Keep an eye out for more information. Meanwhile, you may well ponder the new concept of 'exposome'.
Perseverance and diligent work is also required to ensure long-term funding of our medical programme, not least with regard to issues surrounding the national and county government agreement on funding for medical training (ALF). Our collaboration with Region Örebro County is very good. A majority of our county's representatives in parliament have also submitted motions on the theme "medical education on equal terms". While we are delighted with this support, it is still rather surprising that equal terms for the seven universities offering medical training is not already a given.
Johan Schnürer
Vice-Chancellor
PS. A university is a knowledge organisation where a scientific approach is to permeate all activities. At a university, both staff and students are therefore vaccinated.