Nordic CONREASON Project: Nordic exceptionalism? Mapping constitutional reasoning in the Nordic countries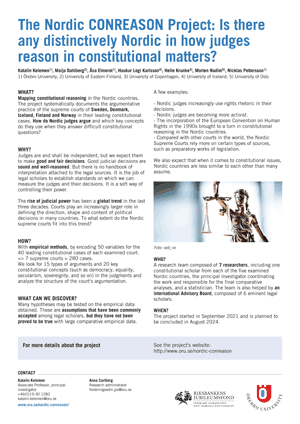 The Nordic countries' unique constitutional scenery is a largely unexplored paradise for theory building in the field of comparative constitutional law and politics (Hirschl 2011). Large comparative constitutional projects rarely include any Nordic country. The aim of this project is to join the global academic discourse on constitutional reasoning and to enrich it with the Nordic countries' experience.
The project aspires to show whether and how the practices of Nordic supreme courts follow the worldwide trends. By using a unique combination of quantitative and qualitative empirical methods, the project will identify and explain the common features of the Nordic style of constitutional reasoning. This will in turn inform normative debates on constitutional reasoning that take place in the Nordic countries and elsewhere both in scientific and in political discourse.
The data collected during the project will be made available to the public through this website, thus enabling others to look for further findings and illuminate judicial practices in the Nordic countries or to compare our results with other jurisdictions.
A detailed description of the project's purpose, research questions, methodology and time plan can be found under "Project" in the left column.