Organization of Developvaccines@oru
Steering committee
The Steering committee is the ultimate responsible group for the progression and the strategic long-term actions for developvaccines@oru. The project leader, sub-project leaders and the key representatives of the companies form the Steering Committee.
Executive Committee
The project progression in relation to the objectives and the core question is under supervision and operation of the Executive Committee which are feed information from the subproject groups.
Subproject Groups
The subproject groups include subproject leaders, researchers at Örebro university and key representatives from the companies connected.
Subproject 1: Composition and formulation
Subproject 2: Production
Subproject 3: Vaccination and evaluation

Work packages
The work packages focus on different research projects and involves all participants of the subproject groups in a matrix formation.
Work package 1: Chlamydia trachomatis vaccine
Work package 2: Tolerogens
Work package 3: HIV vaccine and probiotics
Work package 4: TBE vaccine
Work package 5: Flavivirus vector-based vaccines


International reference group
International reference group including key researchers within the field. The International reference group evaluate the progression of the Synergy project after 2.5 years for directional suggestions and advise to the Steering committee.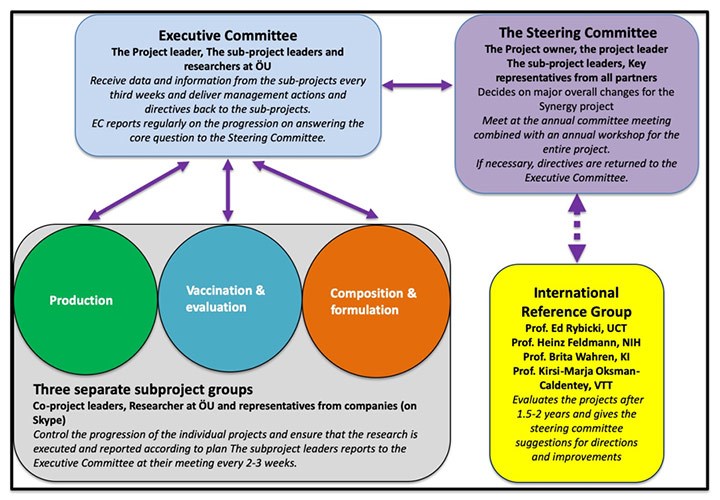 Overview of the organization, information flows and control strategy of DevelopVaccines@ORU