This page in Swedish
Helping robots and humans to be friends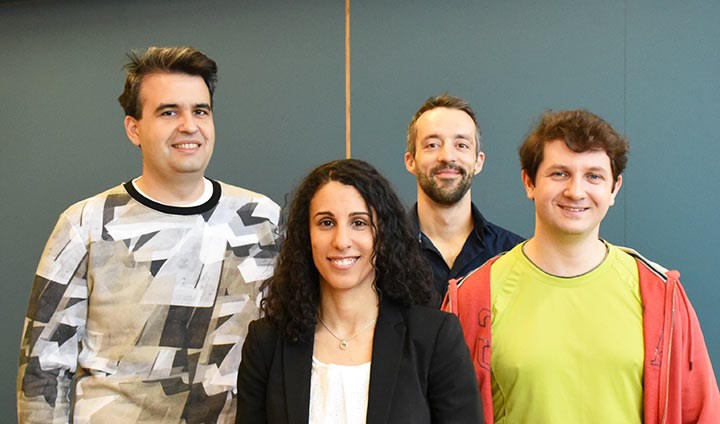 Todor Stoyanov, Amy Loutfi, Robert Krug och Andrey Kiselev, all involved in the Amici project
Robots will perform the dangerous parts of the job, while human operators will make sure the work gets done properly. Robotics researchers at Örebro University are cooperating with industrial companies, and using virtual reality to develop ways to clean industrial machines, where the interaction between man and machine is extremely critical.
"One goal of the project is that the people working with robots will enjoy their work and not get bored doing it," says Amy Loutfi, Professor of Information Technology and linked to the Centre for Applied Autonomous Sensor Systems, AASS, at Örebro University.
The research project is called "Amici" – friends in Italian – a name referring to the interaction between humans and robots. The project is funded by 3.4 MSEK by the Knowledge Foundation (KK-stiftelsen), and an equivalent amount is contributed by the companies involved with the project.
Toxic metallic powder
Five researchers from AASS are working in the project, with the aim of developing a methodology for how robots are to clean industrial 3D printers. These printers must be cleaned between each production run, which use a raw material which is a toxic, metallic powder.
"Today, this type of work is done by persons wearing protective clothing, in a poor working environment, and it takes a long time," says Amy Loutfi.
In the Amici project, a robot will instead do the work from inside the 3D printer. The scientific challenge is to translate the human fine motor skills to the robot's joints, and to map the environment in such a way that the robot learns from its own "experiences".
Bored or stressed
These robots will be remotely controlled by a human being, using virtual reality or VR. Wearing the same type of VR glasses as used in computer games today, the human operator will see their own arms, which actually belong to the robot. In this way, the operator will gain access to confined spaces. The researchers will also analyse what the robot can manage on its own and when the operator has to intervene in order to carry out the work.
This technology is one aspect of the "Amici project". But equally important is the human operator's work environment.
"In the Amici project, humans and robots are colleagues. Using a variety of methods, we will measure how the human operators feel, their pulse rate and if they are bored or stressed when performing their work," says Amy Loutfi.
This research done at Örebro University involves robotics as well as mechanical engineering, and is conducted in close collaboration with several industrial companies, such as Siemens, ABB and Nethouse.
"This research is very well suited for us at AASS. We have been working with the remote control of robots for a long time now, and we know a great deal about how people react to working with robots," says Amy Loutfi.
Text och photo: Maria Elisson
Translation: Jerry Gray