This page in Swedish
Silicon Valley next stop for Ravi's innovation: "It feels amazing'"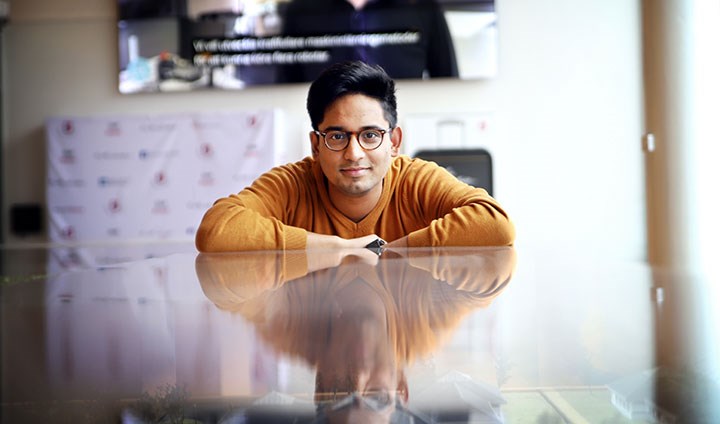 Ravi Chadalavada, a doctoral student in computer science, is behind the innovation QT-PIE, which combines artificial intelligence with eye-tracking. The technology can be used in many ways, such as support in driver education, driver's license testing, or to help doctors to make decisions about a patient's suitability in traffic.
Silicon Valley has made a name for itself as the breeding ground for world-renowned tech companies like Apple, Google, and Facebook. Now an innovation from Örebro has made its way over there. Doctoral student Ravi Chadalavada will receive expert help to take his idea, which combines AI and eye-tracking, to the next level.
Silicon Valley in California, USA, is often described as a world centre for innovation, technology development and entrepreneurship, and is home to companies such as Apple, Google, and Facebook.
In Silicon Valley, Nordic Innovation House operates an innovation hub for startups and established companies from Nordic countries. One of their programmes is REACH, an incubator program designed to boost startups and research-based tech projects.
This year REACH has – for the first time – a participant from Örebro. Ravi Chadalavada, a doctoral student in computer science at Örebro University, has been admitted to the programme to develop his innovation, QT-PIE.
"It feels simply amazing to get this opportunity, almost a bit overwhelming, to be honest," says Ravi Chadalavada.
AI and eye-tracking help in driving learning and assessment
Ravi Chadalavada and a team consisting of Professor Achim Lilienthal, researchers Henrik Andreasson and Sai Krishna, and Professor Maike Schindler from the University of Cologne, have worked for several years on the innovation that will make learning while driving more efficient. The innovative approach is teaching an AI our traffic rules and combining them with eye-tracking goggles. In addition to supporting driver education and driver's license testing, QT-PIE has the potential to be used in a variety of other areas, like in healthcare, which is currently being tested in the Dash pilot project.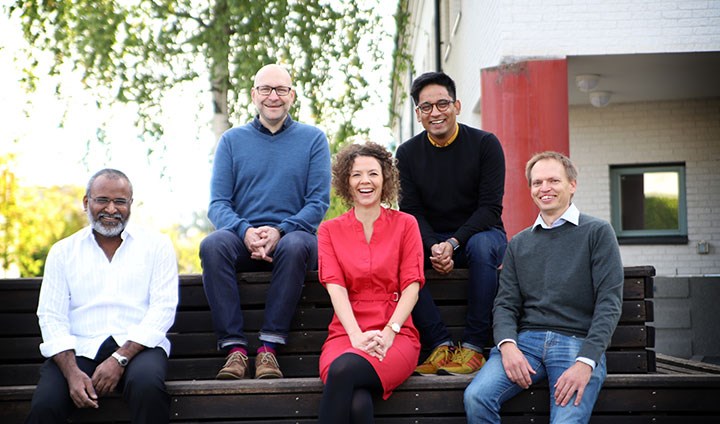 Before Ravi Chadalavada was accepted in the pilot project, he presented his idea and was interviewed by Vinnova, the Academy of Engineering Sciences and Nordic Innovation House. He believes that his initiative is innovative, easy to understand and meets societal problems that many people recognise. Everyday applications like learning to drive or helping doctors who decide on a patient's fitness in traffic have contributed to gaining attention.
"Talking about quantum computers is more difficult to understand and relate to. However, almost everyone takes a driving licence, and many recognise that someone they know has to undergo a driving licence evaluation. So, facilitating and making that process more secure is something that people can relate to," says Ravi Chadalavada.
Vinnova is funding his participation in REACH. The session started earlier this fall and continues until April. Due to COVID-19, the programme will be mostly remotely. The plan is that Ravi and the other participants will travel to Palo Alto, California, to get together in person and, among other activities, meet investors.
"Have already gained lots of good insights"
In addition to attending seminars and workshops, Ravi Chadalavada has also had to choose a mentor to help him through the journey. Something he says has already been fruitful.
"Silicon Valley's more of an attitude than a place, and that's why Nordic Innovation House is there. To get closer to those having that attitude. When I see the other teams, lecturers, and mentors, I'm almost overwhelmed," says Ravi Chadalavada and continues:
"My mentor's on both the Forbes 30 Under 30 and Fortunes 40 Under 40, which is incredible. Based on my conversations with the experts thus far, I've already gained lots of great insight. For example, plans for QT-PIE going forward look quite different now than before REACH started."
"Ravi shows that our pre-startups hold their own – even internationally"
Throughout his innovation journey, Ravi Chadalavada has been supported by Örebro University. Helena Melander Bergström, innovation advisor at ORU Innovation, is proud that Ravi Chadalavada has come so far and believes it is a testament to the university's innovation capacity.
"I think the university should be very proud. Ravi shows that our pre-startups hold their own, only nationally but also internationally. Even if the REACH programme is high-paced, Ravi will tap into an international network there. Hopefully, this will challenge both him and the project to develop. All together it'll provide the perfect conditions for a successful launch," says Helena Melander Bergström and concludes:
"I'm not surprised that Ravi Chadalavada was accepted to REACH. He's driven, curious and not afraid to try out new approaches and learn from adversity. We've brought together several components of regional innovation support, so there are now several stakeholders helping and supporting with various expertise and funding forms for Ravi and his team behind QT-PIE to have the best conditions to succeed."
Text and photo: Jesper Eriksson
Translation: Jerry Gray