This page in Swedish
Keeping documents organised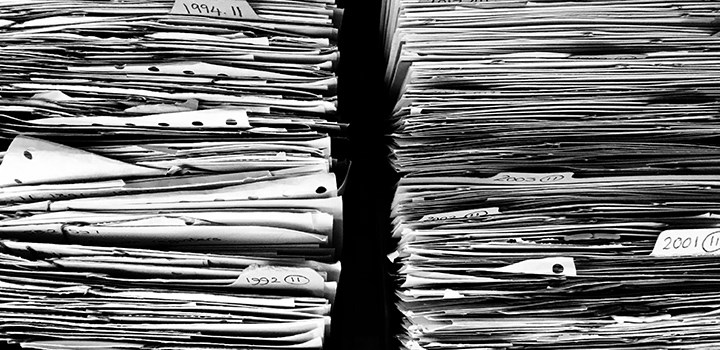 For you to be able to verify research findings and keep track of the administrative processes required for your research, you need to retain the correct documentation.
Most documents created within a research project are official documents and consequently belong in the university archives. The Swedish Archives Act stipulates that the archives of public authorities are to be stored, kept in order, and maintained so that they:
ensure the public right to access official documents
meet information needs within public administration and administration of justice
meet research needs
Research material can be divided into four different categories:
Administrative documents
Administrative documents include formal documents such as project plans, funding applications, data management plans, contracts, agreements, project descriptions, correspondence with funding bodies and principals, and documents relating to finance and personnel.
Administrative documents are to be retained and registered in the records management system Public 360.
Primary material
Primary material refers to the material on which the research is based, such as questionnaires/questionnaire compilations, interviews, research/observation protocols, experimental protocols, measuring and test results, x-ray images, and medical test results.
According to the Swedish National Archives regulations, primary material should be retained for at least ten years after the publication of the final paper, as well as in such cases when the material cannot be recreated.
Working material
Working material includes drafts, concepts, scrap material to be revised, compilations, computations, excerpts, ADP (Automatic Data Processing)-recordings that constitute non-independent components of ongoing data processing. Note that working material become official documents only if they are dispatched (sv. expedieras) or prepared for archiving.
When no longer current, working material may be disposed of.
Reporting material
Reporting material is the final product and is made up by, for example, interim reports, theses, final reports, and original papers. All reporting material is to be retained.
Research documents may be disposed of, but only if supported by legislation or decisions by the Swedish parliament, government, the Swedish National Archives or Örebro University. The information management plan at Örebro University lists which documents can be disposed of and which must be retained.