This page in Swedish
Many new ideas emerged when 80 researchers discussed food and health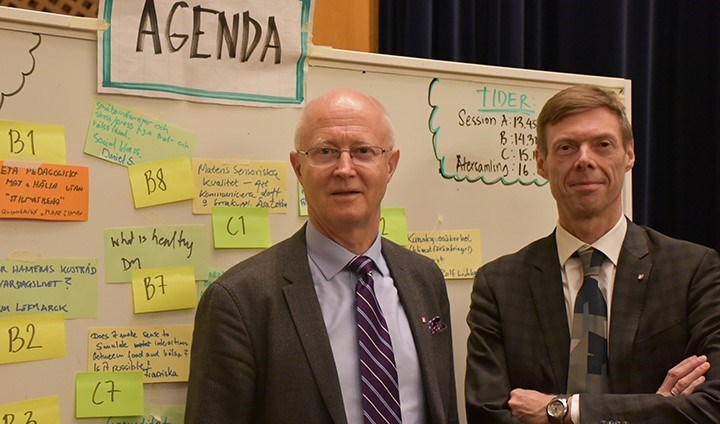 Vice--Chancellor Johan Schnürer and Pro-Vice-Chancellor Robert Brummer.
School meals, elderly nutrition, sustainable food transport, robotics in the food industry and edible vaccines. Many new ideas emerged about how Örebro University could contribute in the field of food and health.
"We want to generate many new ideas and lay the foundations for new collaborations and research projects. For that reason we chose to host an open space meeting," said professor Robert Brummer.
A meeting allowing participants to come up with questions and suggestions, to be later discussed in small groups. The only question on the agenda at the start of the meeting was: How can Örebro University contribute to good social development in the field of food and health?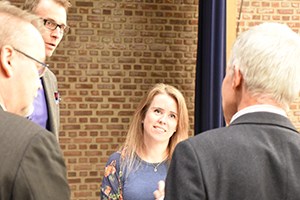 Recently Vice-Chancellor Johan Schnürer communicated that food and health is one of his three focus areas; an initiative to be led by Pro-Vice-Chancellor Robert Brummer, for which this open space meeting was the first step.
"Now it is time for the next step. There will be workshops arranged in smaller groups to delve deeper into the various ideas that emerged today," says Robert Brummer, adding "Later on, the University will also arrange a similar meeting with companies and the public sector, who are important partners. "
The day ended in reflection, where several researchers shared their thoughts. Professor Amy Loutfi, who researches artificial intelligence, observed that technology played an important role in the discussions, however in many different ways: technology that interacts, technology that measures, technology to automate and technology to predict.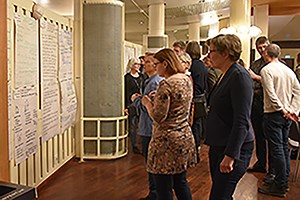 Senior Lecturer Jenny Windahl expressed that it was interesting to meet researchers from such widely different subject fields. Professor Mikael Quennerstedt stated that the basic question was often the same, but that research questions differed depending on where the researcher came from.
"Like in the river metaphor. We all swim in the river of life, with some looking at the swimmer, others at the river, while a third group examines the relationship between the swimmer and the river. Which explains why we see the same question from our different perspectives," says Mikael Quennerstedt.
"And there is a great deal we can do if we work across disciplines," said Robert Brummer, summing up the day.
Text and photo: Linda Harradine
Translation: Jerry Gray