This page in Swedish
"Our goals are high but not impossible"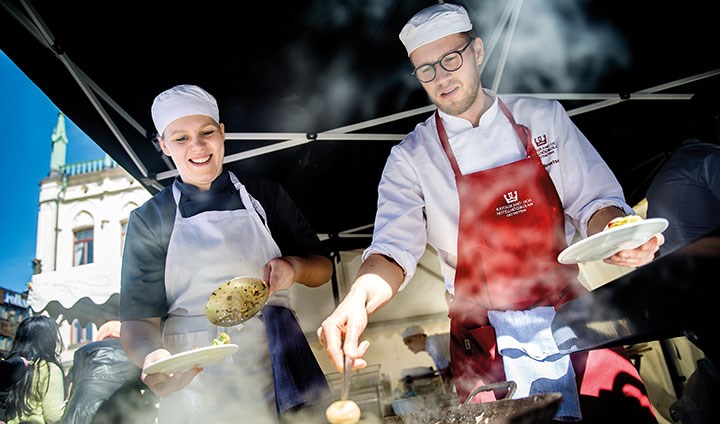 Medicine, care and gastronomy. With this unique combination, Örebro University aims to gather research and education around what is really near and dear to us – food and health – and ensure that it benefits society.
Food and health is one of the three focus areas that Örebro University's Vice-Chancellor Johan Schnürer has selected to focus extra on. And collaboration characterises all three.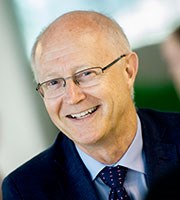 "We have set high goals, but not impossible ones. They are obtainable. In the area of food and health, we need to work cross disciplinary to find new solutions. Researchers in medicine know how microorganisms in our intestines affect health and the School of Hospitality, Culinary Arts and Meal Science understands our sensory processes, that is, how we experience food and scents," says Johan Schnürer.
"Together they can, for instance, help the elderly regain their appetite and ensure that they receive the nutrition they need to be healthy."
Dedicating resources
Research can enrich the food and restaurant industry, but can also develop nutrition in school or elderly care. When this initiative started, 80 researchers gathered from such widely diverse subjects as media and communication studies, psychology, sports, sociology, computer science and medicine to answer the question: How can Örebro University contribute to positive social development in the field of food and health?
And the University is dedicating resources. Johan Schnürer is allocating SEK 125 million on food and health. In addition, he is allocating SEK 100 million in another focus area: teacher education. In close collaboration with the region, work has begun on building a sound teacher programme, based on research and proven school experience.
A beneficial contribution
"A knowledge-based society requires a functioning school with well-educated teachers. We train future teachers and our task is to provide them with good tools to manage a complex reality. The negative trend of declining learning outcomes has many causes, but well-trained and motivated teaching staff is essential to reverse the trend."
These strategic initiatives are based on the fact that research results should benefit society through collaboration, a goal well-defined in the Higher Education Act. As the first university in Sweden, Örebro is recruiting four senior lecturers with a particular focus on external collaboration in engineering. Specifically, within. Specifically, within manufacturing, the logistics industry and the IT industry.
"Thereby Our aim is to strengthen collaboration with the business sector and strengthening the quality of our engineering programmes."

Text: Linda Harradine
Photo: Kicki Nilsson, ICON
Translation: Jerry Gray