Significant initiative for food and health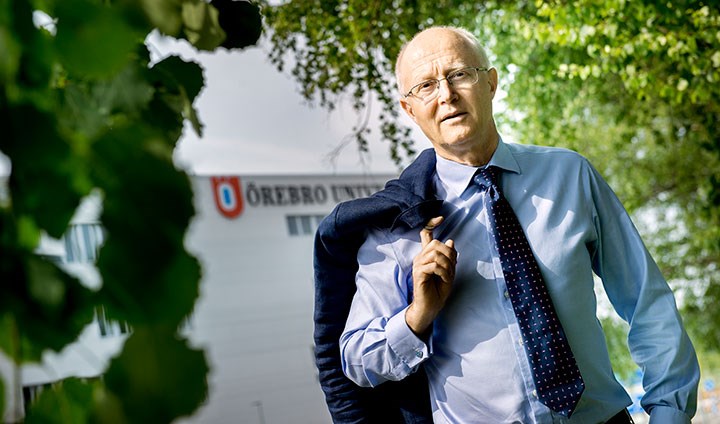 Medicine, care and gastronomy. With this unique combination, Örebro University aims to gather research and education around what is really near and dear to us – food and health – and ensure that it benefits society.
"I have chosen food and health as a focus area because the University has very good prospects of contributing to positive social development in this area," says Vice-Chancellor Johan Schnürer.
Research can contribute to innovations in the food and restaurant industry, but it can also develop nutrition in school or elderly care, when collaborating researchers from medicine, culinary arts and meal science, psychology, media and communication studies, sports, engineering and other subject areas, work closely together to find new solutions.
Devastating consequences
Not enough or the wrong food can sometimes have equally devastating consequences for the sick or elderly, as if the wrong medicine was administered. This is one of the many reasons for researching healthy and sustainable food, which both tastes good and increases the quality of life.
"Medical researchers study how food interaction with microorganisms in our intestines affects our health and our brain functions. Researchers at the School of Hospitality, Culinary Arts and Meal Science understand how our sensory processes, that is, how we experience food and scents, and how to implement this in developing new dishes. Together they can help the elderly regain their appetite and ensure that they receive the nutrition they need to be healthy," says Johan Schnürer.
This is an initiative that actually applies to all of us, from ordinary families and schoolchildren, to persons with special needs, such as athletes, nursing mothers and the chronically ill.
A difficult research area
Over the course of a lifetime, we consume nearly 70 tons of food on average. What we eat fluctuates over time, influenced by age, as well as tastes and trends in society. This makes food and health a difficult area to research. Having said that, it is not just what people should eat to be healthy, but also how we encourage people to eat good food, how it is produced and how it reaches the consumer.
"It is not just about developing new foods, the research stretches from molecular biology to logistics and technology," says Robert Brummer, who heads up the initiative on food and health.
Building a strong and unique research profile
Robert Brummer is Professor of gastroenterology and clinical nutrition, as well as Pro-Vice-Chancellor at Örebro University. In addition, he is Director of the Nutrition-Gut-Brain Interactions Research Centre, NGBI, which studies the interaction between our diet, gut flora, gut and our brains.
Vice-Chancellor Johan Schnürer is allocating SEK 125 million to this focus area, with the goal to build a strong research profile which unique to Sweden:
"I have selected three focus areas, all three with their starting points based on the fact that innovative research and high-quality education should benefit society through internal and external collaboration. A sustainable perspective will also characterise the activities of Örebro University's new focus areas."