This page in Swedish
Smoking risk factor for bowel disease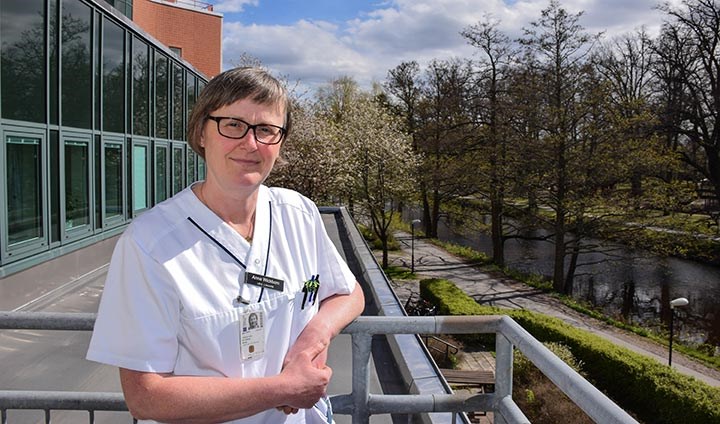 Smoking is a risk factor for the bowel disease microscopic colitis. This has been shown in Anna Wickbom's thesis in medicine at Örebro University. Her research has also shown that there may be a hereditary component of the disease.
"Smokers develop the disease about ten years earlier than non-smokers," says Anna Wickbom, Senior Physician, Division of Gastroenterology at the Department of Medicine, Örebro University Hospital.
In her thesis, she has examined how common microscopic colitis is and who is affected. Microscopic colitis is divided into collagenous colitis and lymphocytic colitis. They have similar symptoms; chronic, watery, bloodless diarrhoea and frequent faecal incontinence. It is also common for the patient to have a stomach ache and lose weight.
Mostly women affected
In Region Örebro County, some 20 people seek treatment for microscopic colitis disorder annually. Mostly women are affected, accounting for around 80 per cent of cases. Why that is, is something that research still has no conclusive answer to. Most people who are diagnosed are 60 years or older, although the disease occurs in all ages.
"In my thesis, I want to increase awareness of the progression of the disease and among other things, look at whether there are factors that increase the risk of illness. Or if there are other diseases that can be linked to patients with microscopic colitis," explains Anna Wickbom.
In her study, she has highlighted various background factors such as heredity, upbringing, education, marital status and smoking. All patients living in the service area of Örebro University Hospital were invited to respond to a questionnaire, which later was compared to control groups.
"The results show that patients with microscopic colitis to a greater extent have other symptoms than only diarrhoea. Patients with active microscopic colitis have a poor quality of life, on par with other diseases which are considered much more serious," says Anna Wickbom.
May have genetic causes
Patients with microscopic colitis reported heredity of the disease to a greater extent than the control group. This could mean that there are genetic factors coming into play. Smoking is a strong risk factor for both collagenous colitis and lymphocytic colitis.
"Upbringing, education level and marital status do not seem to have a bearing on the disease. Several diseases can be coupled to microscopic colitis such as celiac disease, autoimmune thyroid diseases and interestingly enough, also ulcerative colitis. The link to ulcerative colitis is new and has not been shown before," says Anna Wickbom.
Commonality with other diseases
In the thesis, the last substudy examined patients with either a diagnosis of ulcerative colitis or Crohn's disease, then microscopic colitis, or vice versa.
"The purpose of this substudy is to identify and investigate how such conversions occur, to seek common factors of importance as to why these develop, as well as to see how various intestinal diseases may overlap," says Anna Wickbom.
Research into microscopic colitis began in the 1980s at Örebro University Hospital. It was the Swedish pathologist Clas Lindström who described collagenous colitis for the first time in 1976. Lymphocytic colitis was referenced in 1989 by an American pathologist.
Translation: Jerry Gray