This page in Swedish
Revisiting individual experiences and social practices – a tool for senior learners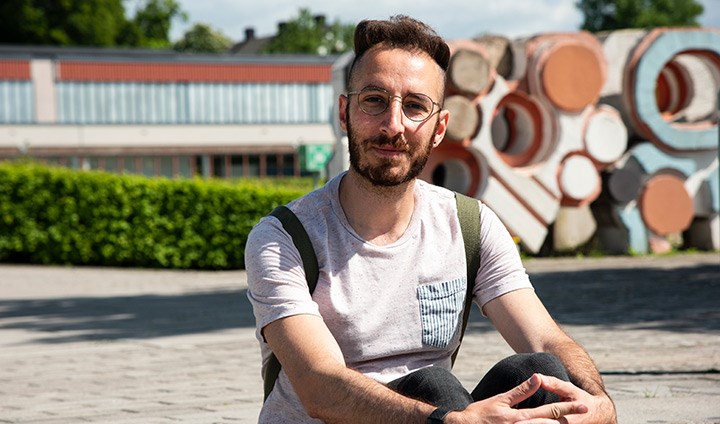 Hany Hachem is doctoral student within the strategic initiative Successful ageing and the EU-funded research programme Newbreed at Örebro University.
From gender to the chance at getting an education. From motherhood to pension. Using their own experiences as a starting point, a group of 11 older people – participating in a senior university study group – began to discuss important societal challenges.
"This way of teaching, resulting in both personal development and the questioning of social practices, may well be appropriate for older adult education," says Hany Hachem, doctoral student at Örebro University.

In a recently published study, Hany Hachem, doctoral student within the strategic initiative Successful ageing at Örebro University, has examined the success of a specific teaching approach among older people. The method takes off from the concept of 'life politics', that is, a politics of daily life choices that are essential to self-actualisation, but also linked to global developments.
"The method we used proved to be working well in practice. The participants showed signs of self-actualisation and empowerment," says Hany Hachem.
Over six sessions, he led a study group with eleven participants at a senior university. Among other things, the participants were asked to discuss identity from different perspectives and to write about their own identity.
"One participant, for example, began to share what it was like being a woman in the 60s, which led to the discussion about the situation of women in society. Another discussion revolved around paid and unpaid work and how that in turn affects how we view pensions. This transition from the individual to society at large was a natural progression and it is the essence of this method," explains Hany Hachem.
Role of the knowledge facilitator
At present, the research field on older people and learning is dominated by two main learning philosophies: the humanistic and the critical. Within the humanistic school, learning equals happiness. On the other hand, researchers within the critical school claim that in order for learning to be meaningful, it should lead to social change. In his study, Hany Hachem wanted to bring aspects of both schools into the classroom with senior students.
"This type of study needs to be replicated many times in order to establish how well this teaching approach works in different countries and among older people from different socioeconomic groups."
The teacher's role in the study group also changes when you combine the two teaching philosophies. Hany Hachem explains that the teacher's role rather become that of a dedicated knowledge facilitator, guiding the participants in the discussions by sparking meaningful discussions which set the ground for self and social questioning.
"The difference is that in my role as a knowledge facilitator, I don't tell the older people in the group what they need to know. My role is to help them learn what they want to learn," he says.
Text and photo: Jasenka Dobric
Translation: Charlotta Hambre-Knight