This page in Swedish
Bringing together AI and music at Örebro University: "Hoping to sow seeds for innovations"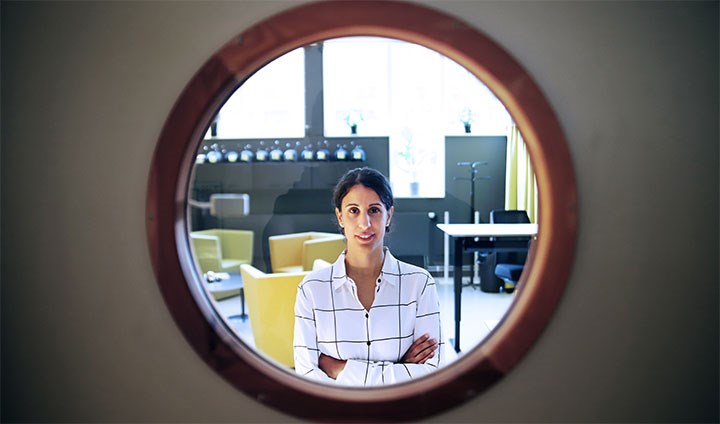 Amy Loutfi, pro-vice-chancellor for AI at Örebro University, can see a number of advantages with the Music Tech Fest event. It is a fun on-campus activity for students, and it is an opportunity to create innovations which can then be developed further at the university.
What happens when artificial intelligence and music converge? This weekend we will find out. That is when the international phenomenon of Music Tech Fest descends on Örebro University. In a two-day workshop, artists will come together with students and AI researchers – with the aim of creating innovation.
"We want to create activities that reach out to both students and the public, inviting more people to be a part of our journey towards establishing Örebro as an AI node in Sweden," says Amy Loutfi, pro-vice-chancellor for artificial intelligence at Örebro University.
The concept of Music Tech Fest, MTF, evolved from the European research project Roadmap for Music Information Research, which was led by digital innovator Michela Magas. Her motivation was to bring music and technology together to provide a creative space for artists, students, researchers and innovators to meet.
The first event took place in London in 2012, and the concept has since toured the world, making stops in the US, Germany, France and New Zealand among other places. In 2018, KTH Royal Institute of Technology in Stockholm has hosted the event – and now Music Tech Fest will descend on Örebro.
"At MTF, we did an interview with Niclas Molinder from Auddly and Creative House and he said 'You must really come to Örebro, what you do is so relevant for what Örebro is trying to do'. He put us in touch with the people at Örebro University and we got along really well," says Michela Magas, founder of MTF.
MTF's founder is innovation adviser to G7 leaders
Michela Magas has worked with various forms of digital innovation for 25 years. She has, for instance, worked with Apple, invented the precursor to Coverflow which is found in mobile phones and is used to browse images. She has also developed new ways of searching for digital music, which resulted in her co-authoring the Sonaris patent, and has been headhunted by the European Commission as an advisor. She was the author and Innovation Director of the #Musicbricks project, which became the testbed for innovation recommendations for the European Horizon Programme. In 2017, Michela was named "European Woman Innovator of the Year" and today, she is innovation adviser to both the European Commission and the G7 leaders.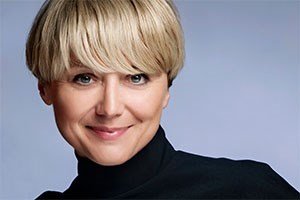 Michela Magas feels that Örebro is a perfect fit for MTF's concept.
"Örebro University understands the importance of taking the results from research and applying it to real scenarios to see how it impacts human beings. This is a really important mindset to have and this is why we are super thrilled to be working with Amy and Örebro University, where there is this new AI Impact Lab. Impact is so important, because what's the point if solutions just sit in the lab?"
AI Impact Lab is a collaboration platform within AI that was launched this summer by Örebro University and Region Örebro County. It will host MTF, which opens on Thursday evening and closes on Saturday evening.
"In Örebro, you have a small ecosystem which means that you can literally gang up together and be very effective. The intelligence of what the university is doing, the impressive things from the School of Music with their amazing production studios, and Creative House – we will put all of these things together," says Michela Magas.
Hoping to create innovations to be further developed at the university
Amy Loutfi, pro-vice-chancellor for AI at Örebro University, is hoping that MTF will lead to exciting new ideas that AI researchers and the AI Impact Lab will then be able to continue working with.
"Örebro has positioned itself as a strong brand in terms of music, which is why the possibility of bringing the event here was considered in the first place. They then realised that this very focus – of combining music and tech – fit hand in glove with the strong AI expertise we have here at the university," she says and continues:
"It will be a fun activity for our students, where they can enjoy themselves and at the same time do something that contributes to building knowledge. I also hope that a few new, concrete ideas will come out of this event, for us to take on board and take further. That it will enable us to sow seeds for new research areas or even innovations."
"Either you do it like this, or you have disruptive systems that will cancel you out"
Michela Magas says that being open to new technology and AI is a question of survival for the industry.
"It is a matter of educating the industry to change its mindset. We look for champions in the industry who gets that. It is a process and we understand that it will take time, but it is important because these are the market conditions now. Either you do it like this, or you have Uber, Airbnb and other disruptive systems that will completely cancel you out. So you need to think about this. That's our big ambition with MTF."
To Örebro University, Music Tech Fest will also be a way of showcasing how all-round AI technology is.
"We are a very broad-based university, so for us it is only natural that we would like to point to AI's broader fields of application. This becomes an important step towards our goal of combining AI with other disciplines. We want to create activities that reach out to both students and the public, inviting more people to be a part of our journey towards establishing Örebro as an AI node in Sweden," explains Amy Loutfi.
For more information, see oru.se/ai-music.
Text: Jesper Eriksson
Photo: Jesper Eriksson and Nebojsa Babic
Translation: Charlotta Hambre-Knight