This page in Swedish
Vice-Chancellor's blog: Welcome to a new semester!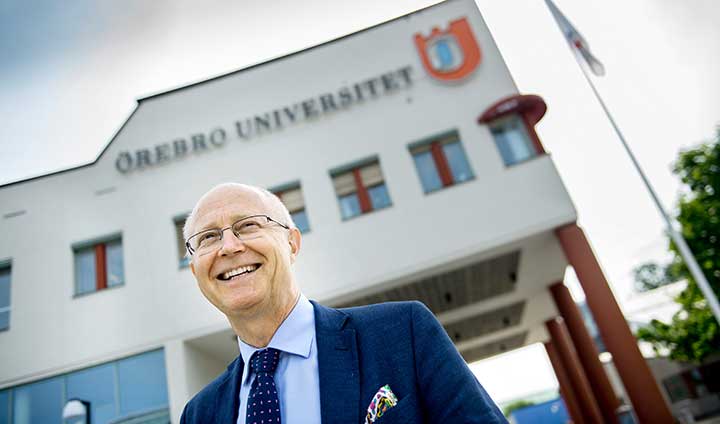 Allow me to first extend a warm welcome to all students – new and returning – and to all our staff who have come back from their summer holiday.
As a new semester now begins, many of us had been looking forward to a return to normal. But it won't be the old normal in any case. Instead, a new normal that we must learn to adjust to. The corona pandemic is not over. We can most certainly count on both restrictions and flaring outbreaks in 2021, perhaps all of 2022 as well – developing safe vaccines and drugs are time-consuming processes.
For this reason, we need to maintain proper distance, avoid large crowds and wash our hands. To make it easy to keep this top of mind, there are several thousand posters, table talkers and stickers everywhere on our campuses. There will also be pavilions set up to make it easier to study outdoors.
Things are headed in the right direction, and we are carefully beginning to open our campuses. We thank our students for their understanding that things are not as usual – and I must say that I am particularly impressed by our staff. Teachers that are working under uncertain conditions, preparing themselves for various scenarios while succeeding in both remote and on-campus teaching.
It is in times like these that the will to help each other becomes apparent. We have seen this in our communities and in our activities – creativity, willpower, determination – demonstrated by our staff and our students.
We see this in the experiences our teachers have shared. Magnus Hansson at Örebro University School of Business describes how he quickly realised that a three-hour long lecture cannot be simply baked into an online format. Annika Göran Rodell at the School of Hospitality, Culinary Arts and Meal Science has found new ways of getting the practical elements to work also remotely. Niklas Eriksen at the School of Science and Technology has developed solutions to enable doing mathematic exercises together with students. Here you can read their tips – and we plan on spreading more good ideas. (in Swedish)
Another good example are the short films produced by the project group for the introduction for new students. (in Swedish) They explain important things to new students before the semester starts, such as, how an examination takes place and what it means to write academically, along with other tips.
Naturally, it is a pity that you cannot gather in larger groups and get to know one another through social activities as you usually do. However, our introduction officers advise you to keep a lookout in social media – the student union will be putting together groups as well as organising a contest.
Despite the pandemic, our development continues, as seen on campus. Labbet and Hubben will soon be complete, two pieces of the puzzle in our investments into innovation. Already, two companies have moved into Hubben – Neurolearn and Embrace Safety. And shortly, Örebro universitet Holding, ORU Innovation, Social Impact Lab, ORU Invest, Student Consultancy Services, Research Consultancy Services and Kompetensuppdrag, will also move in.
Finally, I would like to end with the good news that we made a giant leap – over 100 placings – and are now in the 601–700 band on the Shanghai Ranking. We already have an excellent position in the Times Higher Education ranking, placed at 385th among the world's higher education institutions. This is a clear indication that Örebro University is continuing to develop in a positive direction.
These results were achieved together, and so we must continue to work together – with combined strength, encouragement and a helping hand. Simply because we do not know how long this new normal will stay. "We switched overnight – and we delivered!" Magnus Hansson, I couldn't have said it better myself. Let me wish you all as good an autumn semester as is possible – in anticipation of the old normal.
Vice-Chancellor Johan Schnürer
Translation: Jerry Gray