Annika from Germany praises Örebro's campus life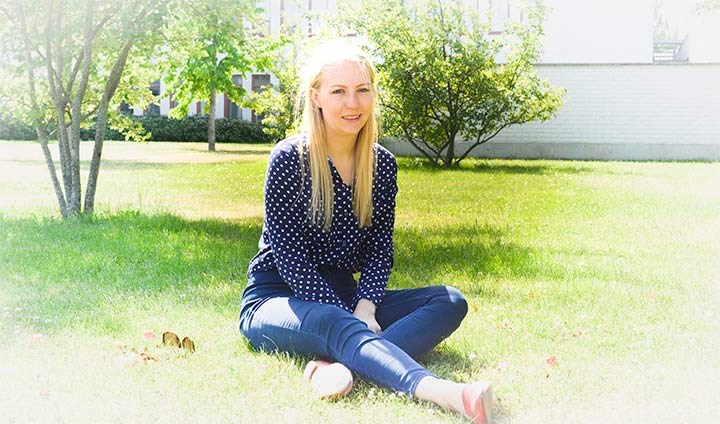 Annika Ehlers, an exchange student from Hannover, like the campus life in Örebro.
Although she had never before heard of Örebro, Annika Ehlers chose to spend a semester at Örebro University as an exchange student. And she has no regrets traveling to 'destination unknown', on the contrary.
The Erasmus Programme – an EU exchange student programme that has been in existence since the late 1980's. Its purpose is to provide foreign exchange options for students from within the European Union and it involves many of the best universities and seats of learning on the continent.
"I w­­ould really love to come back sometime – I am so envious of those who can stay here," she says.
Annika Ehlers is studying at Hochschule für Musik, Theater und Medien Hannover, HTMT, Örebro's partner university through Erasmus, a EU student exchange programme. Since she wanted to come to Sweden, for her Örebro was a new place on the map – and an opportunity to continue her master's programme in media and communication.
Annika's studies are focused on health communication; she explains:
"Among other things this includes how communication between doctor and patient works, and how it should be formed to lead to a healthier life."
Specialising in distance education
While studying in Örebro, she is also studying Economics at German Hagen, a university specialising in distance education. Her goal is to return to Germany and earn her doctoral degree by combining creativity with business.
"The semester in Örebro has given me time to reflect. Which was very good for me, because in Hannover I was overloaded with work," she says.
Annika Ehlers praises the campus life in Örebro and compares with Hannover, where the university is spread throughout the city, and likewise the students. And there everyone goes home after lectures.
"Things are so well organised here. Through the Orientation Programme, you make new friends right away. And then you meet on campus every day. Unlike in Germany, where you may meet someone by chance, at best."
Annika Ehlers has also utilised her time in Sweden to travel around a bit, together with other exchange students, to places like Lapland, Stockholm and the West Coast.
"Sweden is really beautiful! You don't actually need to travel from Örebro to discover its beauty."
Naturally, exploring Sweden also brought her to Astrid Lindgren's Smaland. The queen of children's books, Astrid Lindgren is an author held in high esteem in Germany. And so, the direct connection between Lindgren's works and the name her parents chose for her – Annika – a reminder of the tales of Pippi Longstocking.
English was Annika Ehlers' language of choice here, since "everyone speaks English in Sweden". However, she believes it would be a big plus if the university could organise Swedish courses for their exchange students.
Text: Maria Elisson
Translation: Jerry Gray
Foto: Sakher Alattar