Antek Schabert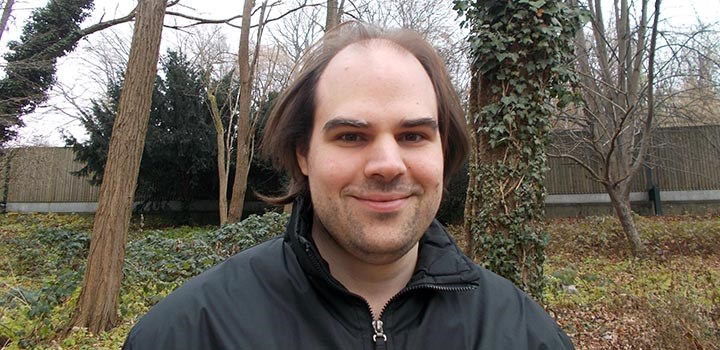 After graduating with a Bachelor's degree in Computer Science from the university in his home town in Germany, Antek Schabert decided it was time to see another part of the world. After considering various alternatives of international master's programmes in Robotics, Örebro University became his first choice.
"I was attracted by the size of Örebro. The town is big enough to have a high-quality university but small enough to be close to nature and easy to get around. It is similar in size to Konstanz, my home town in Germany. So moving here was an easy choice for me. I felt right at home here," says Antek Schabert.
Antek describes that his studies in Germany were mainly focused on practical subjects like writing computer code for embedded systems and studying existing algorithms, rather than creating new ones. In his Master's programme at Örebro University he both appreciates and is inspired by the strong connection with research. To have access to both newly released and ongoing research makes him constantly learn new things, as well as challenges his existing knowledge.
Compared to the University of Applied Science in Konstanz, Germany, Antek's experience of Sweden is that there exists a more informal and familiar contact here, not only between students and teachers, but with the entire faculty. You can ask anyone for help.
"I can strongly recommend others to apply to this programme. Mostly because of the fantastic teachers. I am currently writing my master's thesis, and my supervisor Martin Magnusson has provided me with great support," says Antek.
The move to Örebro was both challenging and fun; Antek and his father drove the 1,000 km by car. He found a room in a student apartment close to the campus and shares the kitchen with two other students. The University's introduction programme presented a helpful orientation. However, the greatest challenge had nothing to do with the university itself: getting Internet up and running in the apartment. In his spare time, he likes to explore the wonderful nature close to the University and see the sights in Örebro by foot. The fact that nearly everyone speaks very good English in Sweden makes getting around a pleasure.
Antek will graduate from Örebro University in summer 2017. After graduation, his plans are to take a break from both further studies and work, in order to travel around the world:
"I am really looking forward to exploring Asia. When searching for options for an international master's programme in Robotics, I chose Örebro University over a university in Japan. An application to a Japanese university would have meant a great deal more administration and substantially higher costs. So instead I plan to visit Japan as a backpacker."