Morgan Rody, Project Manager at Atlas Copco Rocktec Automation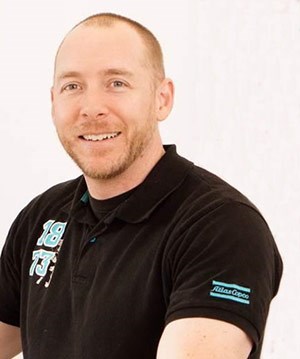 Why did you choose Robotics and Intelligent Systems at Örebro University?
I have always had a strong interest in technology, specifically Robotics and Automation. After having recently completed a Bachelors in Mechatronics, studying Robotics and Intelligent Systems was an excellent opportunity to delve deeper into robotics while developing a higher understanding of exactly how these systems worked and what they are comprised of. I remember Örebro University had an exhibition downtown in Örebro where members of the AASS Lab were demonstrating their latest robots. It was this exhibition that really sold me!
What did you like best from your studies?
There was a good balance between pure theory and practical labs, giving everyone a good opportunity to apply what they have recently learned. What sets Örebro apart from many other universities is access to the brilliant minds working at the AASS lab. Everyone is extremely friendly, always willing to help and the international atmosphere is brilliant.
What are you doing now?
I'm currently working at Atlas Copco in Örebro, Sweden as a Project Manager for Automation Software Development which is used for our semi-autonomous loaders and mine trucks used in underground mining. I work with a highly motivated and intelligent international team located here in Örebro, Chile and Australia.
What are your impressions of programme graduates working at Atlas Copco?
Any MSc graduates that have come to work at Atlas Copco have been very capable in their abilities to complete complex tasks, deliver quality and above all, are hard working! At Rocktec Automation, we have 4 previous MSc graduates (including myself) from the Robotics and Intelligent Systems program with the added bonus of 4 PhD graduates from the AASS lab. This makes for an extremely competent team and it is a pleasure to work closely with each of them.
Tell us about about your background
My background in technology began with a college degree from Canada, in Robotics and Automation. After working as an Automation Service Technician for a number of years I moved to Australia where I completed a Bachelors in Mechatronics. I later moved to Sweden where I worked for several years as a math teacher at the English School in Örebro. Once finished, I began the two year Robotics and Intelligent Systems Masters program at Örebro University. The rest, as they say, is history.