Radio host from Botswana goes PhD-student in Örebro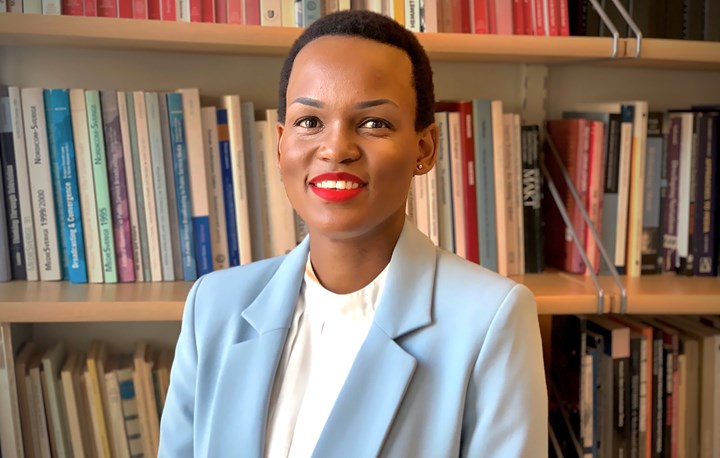 Lame Maatla Kenalemang-Palm in a meeting room in Forumhuset.
Lame Maatla Kenalemang-Palm came to Sweden from Botswana 6 years ago for the final year of her bachelor's studies. She fell in love with the country, and with a man, and decided to come back again for her master's studies. Now she is married and works as a PhD-student at Örebro University, conducting research within the Successful Ageing research initiative.
It is the end of October, and Lame Maatla Kenalemang-Palm is fully at work. She is writing on a draft for a paper she wants to get published before the end of the year, which will form part of her doctoral thesis. She is found at her desk in her office in Forumhuset. This bright, three-story campus building houses the faculty for the School of Humanities, Education and Social Sciences. Her least favourite season, Swedish winter, is closing in, so she is particularly glad to stay inside and work on her research. It is an immensely different life from when she lived in Botswana, working part-time as a radio host while studying for her bachelor's degree at the University of Botswana. The pros of living in Sweden still definitely outweighs the chilly con.
"I like how the system works in Sweden. Most services are digitalised, which makes them easily accessible, and without much struggle," Lame assures.
Sweden "killed" the radio star
Lame quit the radio gig after two years when she decided to study abroad. Her first time coming to Sweden was through an exchange programme during the last year of her bachelor's studies. She found it through the international student exchange programme ISEP. Lame chose Sweden because of her interest in environmental science, something she says Sweden has always been a role model in, taking care of the environment.
"Just the way Swedes sort their trash and recycle it in their homes, that is something that should be adopted in Botswana, which is not as environmentally conscious as Sweden unfortunately."
During what was supposed to be her only year in Sweden, Lame met her husband and decided to move to Sweden permanently. She went on to get her master's degree in Global Media Studies at Karlstad University. She then applied for the PhD-position at Örebro University.
"I have completed three of my four years, and last year my husband and I got married," says Lame with a smile.
Working for women's right to age
Today, Lame is conducting research in media and communication, as part of the strategic initiative Successful Ageing. Simply put, she examines how older women are being represented and portrayed in advertisements.
"Modern-day society's obsession with youthfulness and physical attractiveness has resulted in the rapid increase in the number of products and services that older people, particularly women, are increasingly encouraged to consume." Lame writes in her synopsis. Her case study looks at the cosmetics company L'Oréal and their "Age Perfect" campaign, which supposedly empowers women to age perfectly. She is examining what they mean by 'ageing perfectly', and what kind of communication tools they use to convince women that they should age in a way that is perceived as desirable. She also seeks to identify which discourses are conveyed through the ads.
"Of course, women age, but advertisements depict them in ways that suggest that they should not show any visible markers of ageing - they should remain 'forever youthful'. Ageing seems to be a lifelong project for women," Lame explains.
With her international background, Lame highly praises the support she has gotten from the university administration and appreciates when guest professors from outside of Sweden are invited.
"It is quite beneficial to get a chance to work and interact with people from different cultures and different academic traditions and backgrounds. It is great to be able to share my research ideas and my work, and get to see them from another perspective," she says.
Hopefully, we can read her coming publication at the beginning of 2021 and see if we share the perspectives of Lame and her international colleagues.
Learning and educating
Lame was born in 1991 in the small diamond mining town Jwaneng in southern Botswana, where she grew up. Now her mother has moved to Kanye.
"I can assure you, Kanye the rapper has nothing to do with the name of the village," Lame quickwittedly jokes.
It was never a question whether Lame should pursue higher education since it is almost impossible to get a decent job without it in Botswana. She did, however, manage to get a job while studying for her bachelor's at the University of Botswana. Before moving to Sweden, she worked at Radio Botswana I (RB I) for two years, as the host for a radio show called 'Education Forum'. There she interviewed top officials in the education sector, in a collaboration with the Ministry of Basic Education in Botswana.
It was a good experience, but Lame points out that she had to be a bit careful about what she said not to step on the wrong toes. Since it was state-controlled radio, the official stance is that you are free to say what you want. Still, in reality, Lame found it rather limited regarding freedom of speech – it required approval before going on air. When all is said and done, Lame is very happy with her choice to move to Sweden. As long as you don't remind her that winter is coming.
Text: Hugo Öhman
Photo: Hugo Öhman