This page in Swedish
"I've learned to apply statistics in practical terms."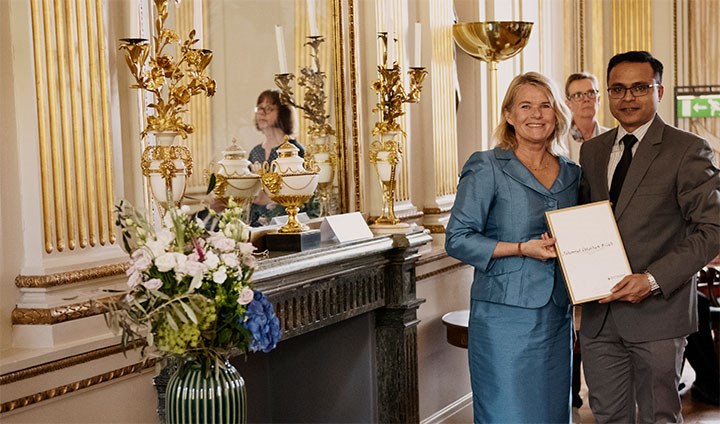 While studying at Örebro University, Mohammad Ehtasham Billah received the Global Swede Award, which is organised by Swedish Ministry for Foreign Affairs and the Swedish Institute. The award is presented to students who have distinguished themselves within areas related to innovation and entrepreneurship and proven themselves to be excellent representatives of both Sweden and their native countries.
The Master's Programme in Applied Statistics is perfect for you who would like to work with real data and learn to use statistics in practice, according to Mohammad Ehtasham Billah. For him, his studies at Örebro University led to a job as a statistician in the business community.
Mohammad Ehtasham Billah was born and raised in Bangladesh, where he studied statistics up to the master's level and then worked at a bank for almost five years. Thanks to a scholarship, he had the opportunity to move to Örebro and study the Master's Programme in Applied Statistics.
"It was a big decision moving to Örebro, but for me it was worth it. The study programme is beneficial for those seeking a career as a statistician, data analyst or economist. The opportunities are endless to choose a career path. This is due greatly to the fact that teachers are open all feasible statistical topics. As a student, you can immerse yourself in the subjects that suit the career you are interested in."
What was it like to study at Örebro University?
I really enjoyed studying at Örebro university. All international students receive help from the university in arranging for accommodation. This is very helpful since finding accommodation can be very hard especially if you've just moved to Sweden. Örebro isn't a big city like Stockholm. So, if you prefer peace and quiet, then Örebro is perfect. Still, there's plenty to do here, especially if you like sports. I also liked the fact that there are plenty of places to study without being disturbed.
What are you working with today?
"I work at a company called Fortnox AB in Växjö. Fortnox provides cloud-based accounting and administrative services to business owners and accounting firms. I work as an Insight analyst, which means that I am a statistician and process large amounts of data that provides the fundamental knowledge for data-driven and statistically significant decisions. It is a nice workplace to work at and I like being here."
Does your work have a connection to your education at Örebro University?
"My work has a very strong connection to my studies on the Master's Programme in Applied Statistics. Doing statistical analysis is part of my job, and it was also my main focus on the master's program. Before I started in Örebro, I was not very good at programming, but after the programme I feel more sure doing it. In my home country, I studied theoretical statistics, but at Örebro University the studies are more practical. Here I learned to implement statistical methods on real data, not just study theories. The learning method is auite different compared to my previous university in Bangladesh."
Would you recommend others to study the Master's Programme in Applied Statistics at Örebro University?
"I would absolutely recommend the Master's Programme in Applied Statistics to anyone interested in learning the practical aspects of statistics. Nowadays, it is very important to know how to work with real world data and how to use proper statistical methods to solve a problem. Since many companies and organisations want to make decisions based on data and are statistically significant, it is very valuable to have such skills if you want to work as a statistician."
What are the promises of getting work after the programme?
"It's my experience that the prospects of getting a job are very good after studying the Master's Programme in Applied Statistics. But you should get prepared for the labour market already at the beginning your studies. For example, by learning Swedish and keeping an eye on job advertisements to get an idea of the skills in demand for newly-graduated statisticians. Being good at programming and statistics gives very good chances for employment."
Text: Anna Lorentzon
Photo: Sofia Nahringbauer
Translation: Jerry Gray