This page in Swedish
Ally - a tool for increased accessibility in your courses

What is Ally?
Ally is a tool to support teachers in creating course content that is accessible to all users, regardless of abilities and limitations.
Ally gives a clear status of how accessible your course material is. Ally checks the published course material and performs a series of steps to make it more accessible.
Enters accessibility scores on your published objects and gives you feedback on how you can improve the accessibility of these.
Generates several different alternative formats of your content, so participants can download the format that best suits their needs.
---
Ally for teachers
Ally gives your uploaded course materials an accessibility score that is visually displayed next to each item. Note! the accessability score is not visible for students.

The score is given as a percentage and ranges from low to perfect.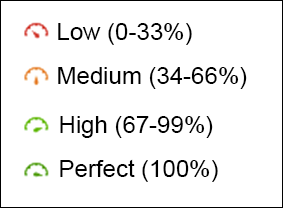 If you click under Accessibility score, you will get suggestions on what can be improved - in terms of accessibility. Ally also gives you tips on how to proceed!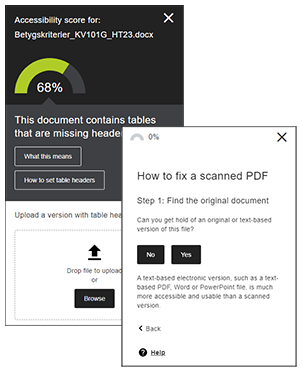 ---
Ally for students

Select the desired format and click the Download button.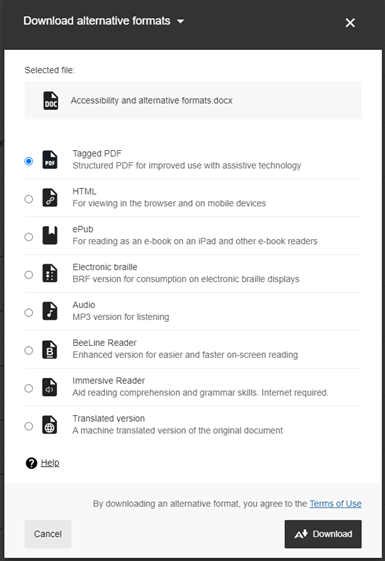 ---
Information about the alternative formats
Tagged PDF

A structured PDF that facilitates the use of reading aids.

HTML

Makes it possible to read a mobile-friendly text directly in the browser. The text is responsive, unlike a PDF.

ePub

For reading as an e-book on an iPad and other e-book readers.

Elektronic Braille

Converts text documents into a Braille Ready Format for electronic braille displays.

Audio

Converts text to MP3 files so you can listen to the material.

BeeLine Reader

Enhanced version for faster and more focused on-screen reading.

Immersive Reader

Contains a variety of tools. Among other things, you can have material read aloud, change the appearance of the text (color, font, size, etc.), highlight different types of grammar and much more.

Translated version


A machine translated version of the original document.

OCR-PDF

In the case of scanned documents (where the text thus becomes an image), you can convert the document into an OCR format. For example, you can select and copy text here.