X-HiDE – a research bridge between students and companies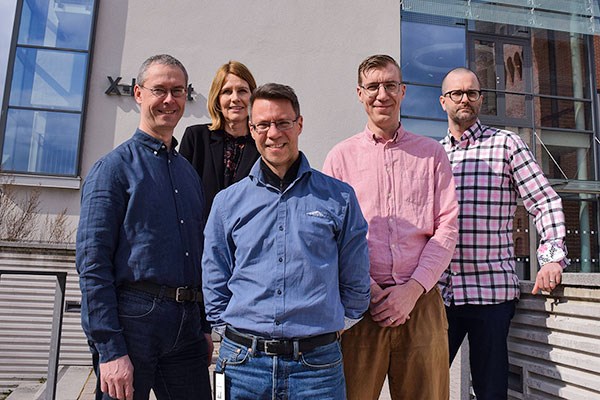 The X-HiDE project team.
Örebro University invests in inflammation research, a research topic that brings researchers, physicians, students, and companies together into the newly started inflammation project, X-HiDE. The newly redesigned international Master's Programme in Experimental Medicine, with inflammation as the main focus, is embedded into X-HiDE.
International interactive programme with inflammation in focus
This two-year international Master's Programme in Experimental Medicine has inflammation as a mutual focus, offering students both broad and specialised knowledge in experimental medicine. The programme is a mix of lectures and problem-based learning combined with an interactive dialogue between teachers and students. Since it is an international programme, participating students come from various parts of the world.
"The professors encourage us to ask questions, engage in discussions and share our thoughts. Also, I like that my classmates have unique yet diverse experiences in science-related fields," says Linda Alchami, a student from the United States, who currently is enrolled in the programme.
The programme's teachers are active researchers who take their current research into the classroom. Several are involved in the newly started X-HiDE project, a centre for inflammation research that received SEK 48 million in funding from the Knowledge Foundation.
X-HiDE – an inflammation project with a hands-on perspective
The primary aim of X-HiDE is to establish an internationally competitive Centre of Excellence where researchers, physicians, students, and companies collaborate on exploring inflammation. Therefore, X-HiDE has a robust teaching perspective and offers essential knowledge, perspectives, and career opportunities for students at all levels, beginning in autumn 2020.
"X-HiDE is like a recruitment base for both universities and companies. We want to recruit talented master's students who have the ambition to pursue an academic research career and companies want to recruit students with state-of-the-art knowledge" explains Alexander Persson, coordinator in X-HiDE and Director of the Master's Programme in Experimental Medicine.
Linda Alchami has a bachelor's degree in cellular biology and a master's degree in occupational therapy and is currently in her first semester of the Programme of Experimental Medicine.
"I chose to study the master's programme because I wanted to improve my research skills, study science in a deeper level to improve my future career opportunities, and due to the fact, it was all taught in English. Also, I wanted to make new experiences in Sweden and Örebro University is a young, growing university, even at an international level", explains Linda Alchami.
Companies teach students
It is a commonplace that students become isolated from the business world during their studies. To counteract this, X-HiDE provides students with the opportunity to meet potential future employers. Several of X-HiDE's collaboration partners have an outstanding teaching experience and will contribute to training on up-to-date methodology and research approaches as well as offering a placement for exam work. "We know that many companies want to involve students in research projects and several of them will give lectures at the university and arrange study visits at their pharmaceutical or biotechnical industries," says Katarina Persson, Project Education Manager.
Text: Elvira Andersson
Photo: Örebro University