Håkan Nesser
Håkan Nesser is a Swedish author who, since his debut with the love story Koreografen (1988), has written more than thirty novels.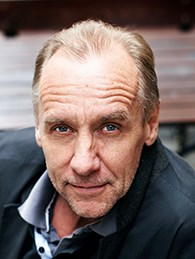 Håkan Nesser's books have been translated to more than thirty languages and have sold 15 million copies. Several of his novels have been adapted for big and small screen productions.
Håkan Nesser has received a number of awards from various organisations and societies, including best detective novel, best crime novel, cultural awards, and the German Ripper Award. After his debut, Nesser wrote a series of ten novels about Chief Inspector Van Veteeren in the fictive European town of Maardam.
He has also authored a series about Chief Inspector Barbarotti in the fictive town of Kymlinge. Håkan Nesser has also written several other novels. In two of these, Kim Novak badade aldrig i Genesarets sjö (1998) [A Summer with Kim Novak] and Och Piccadilly Circus ligger inte i Kumla (2002) [And Piccadilly Circus is not in Kumla] Nesser relates to his own childhood in Närke, Sweden. When asked why he has written so many crime novels, Nesser answered that tension and suspension are salient in reading but also that the presence of death in these genres opens up for the major life issues. The latter point can be said to signify Nesser's novels since readers are often focusing on his characters, their faith and struggle with existential issues.