Linn Fernström
Linn Fernström, artist, was born in Örebro in 1974 and currently lives and works in Stockholm and New York.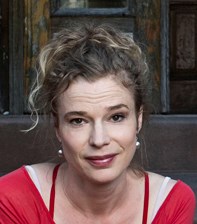 Linn Fernström trained at the Idun Lovén art school (1993–1995) and subsequently at the Royal Institute of Art (1995–2000). Her art enthrals and appals, and is described by one of Sweden's largest art galleries, Lars Bohman Gallery, as a world inhabited by a dream-like mixture of animals and humans, where time and space are not easily defined, where Fernström's own body is used as a tool for narration and where the audience is invited to a journey of reflection and contemplation.
Linn Fernström frequently exhibits at galleries around Sweden and Europe and her art can be found in the collections of The Public Art Agency Sweden, Museum of Modern Art, Stockholm, and Örebro County Museum. She has received a number of scholarships and is one of Sweden's most featured and well-established contemporary artists.
Örebro University is entering a phase of intensified efforts in developing artistic research, with the study of aesthetic expression in music as well as in the aesthetics of the meal, and in visual arts education. Artistic research is based on the practice and exercise of art. The ambition is to involve Fernström in the University's efforts to stake out the future direction for its artistic research, drawing on her capacity as a nationally and internationally prominent artist with an eye for contrasts and details and a singular ability to create brutal magic.