This page in Swedish
Elina Mäki-Torkko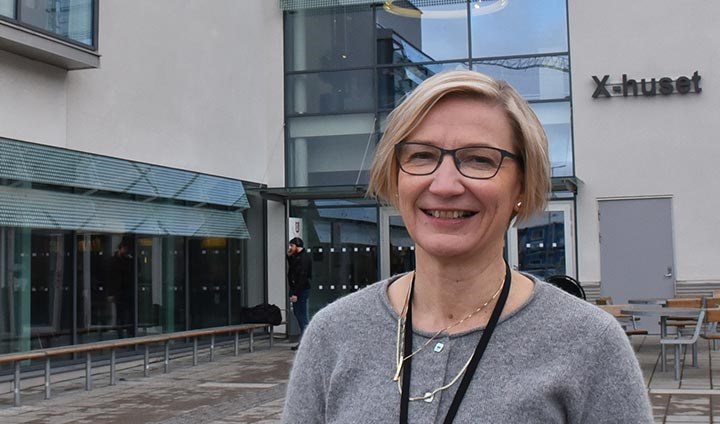 Elina Mäki-Torkko is professor of audiology. She is investigating the prevalence and causes of hearing loss. Her research also concerns cochlear implants, CI.
Facts:
1961 Born in Huittinen, Finland
1998 Obtained her PhD in medical sciences at University of Oulu, Finland with her thesis Childhood hearing impairments and hearing screening: An epidemiological and clinical study of hearing in children and the implementation of the present hearing screening programme for pre-school children in Northern Finland
2007 Docent in audiology at University of Oulu, Finland
2016 Professor of audiology at Örebro University
"Our ongoing study confirms previous results in other populations. After one year, the ability to hear speech increases significantly with CI as well as the quality of life," says Elina Mäki-Torkko.
Her research also shows that older people over the age of 75 greatly benefit from CI. The next step is to perform a more advanced analysis of CI use in older people and process data collected by the same group after three years of CI use.
Cochlear implants are a principal research area for Elina Mäki-Torkko. Her interest was aroused during her clinical work, first as part of the CI team in Lund, later as part of a similar team in Linköping. She sees good opportunities to continue her CI research in Örebro.
For adults who have lost their hearing for one reason or another, cochlear implantation has been available to regain hearing for more than 20 years now. Those with seriously impaired hearing and for which custom hearing aids do not help may benefit from a cochlear implant, which electrically stimulates the auditory nerve.
"CI does not provide normal hearing, and we know that the results vary greatly between individuals. In our ongoing project in Linköping, we study factors that can affect the benefits of CI regarding both hearing and quality of life. So far, we have demonstrated that both CI users and their relatives have described the benefits of CI as increased independence and reduced anxiety in various hearing-demanding situations."
A thesis project laid the foundation for Elina Mäki-Torkko's further interest in epidemiological research into the prevalence and causes of hearing loss. In a major European collaborative project, she participated in a population-based epidemiological and genetic study on age-related hearing loss of persons living in Northern Finland. The results showed a high prevalence of hearing loss, 27 per cent among 54–66-year-olds. In addition, 29 per cent had tinnitus, and 17 per cent reported hyperacusis or noise sensitivity.
"The study showed that hearing loss is common already in this age group and thus, a public health issue. We also know that hearing worsens over time. The project will now be resumed, 12 years later."
In a doctoral project, the 850 participants in the EU project will be followed up.
"Longitudinal studies have their challenges and are relatively rare even from an international perspective. At the same time, follow-up studies provide valuable information that can be used, for example, in the planning of health care – in this case, hearing care."